Not sure what to buy your dad this Father's Day? Surprise him with an out of this world breakfast from Martha Stewart, Jamie Oliver, Reuben Riffel or Charles Masters.
Baked Stuffed French Toast – Martha Stewart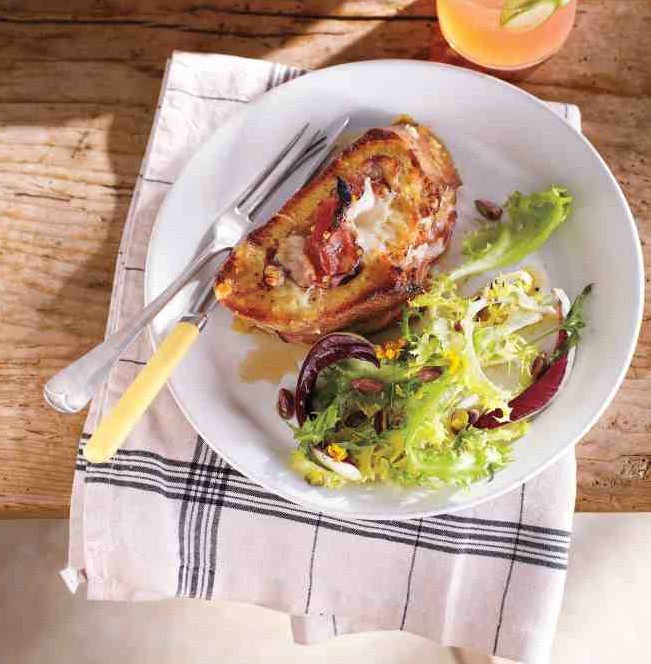 Ingredients
Unsalted butter, room temperature, for baking dish
1 14-inch loaf rustic bread, such as Pugliese, cut into 8 slices
8 thin slices *ham, pastrami or bacon, plus more for topping (optional)
250g Gruyere, thinly sliced, plus more for topping (optional)
8 large eggs
2/3 cup whole milk
Coarse salt and freshly ground pepper
Pure maple syrup
Method
Butter the bottom and sides of a 9-by-13-inch baking dish.
Make a deep slit in each bread slice to create a pocket. Stuff each with 1 slice of *ham, and then divide cheese evenly among pockets.
Whisk together eggs and milk in a bowl until combined, and season with salt and pepper. Pour egg mixture into prepared baking dish. Add bread slices in a single layer, gently pressing into egg mixture, and let soak 15 minutes. Flip bread and gently press again into egg mixture. Let it soak 15 minutes.
Preheat oven to 350 degrees. Top bread with remaining *ham and cheese. Bake until egg mixture is set and cheese is melted, 20 to 25 minutes.
Turn oven to broil, with rack 10 to 15 centimetres from heat source. Broil until bread is toasted and golden brown, 1 to 2 minutes. Serve hot with maple syrup
*If preparing the day before, refrigerate up to 12 hours, loosely covered, then let stand at room temperature 30 minutes.
Pancakes USA style – Jamie Oliver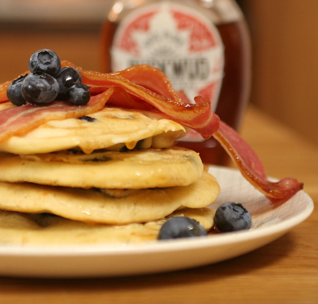 Ingredients
3 large free-range eggs
115 g plain flour
1 heaped teaspoon baking powder
140 ml milk
1 pinch salt
Method
Separate the eggs yolks and eggs whites.
Add the flour, baking powder and milk to the yolks and mix to a smooth thick batter. Whisk the whites with the salt until they form stiff peaks. Fold into the batter – it is now ready to use
Heat a good non-stick pan on a medium heat. Pour some of your batter into the pan and fry for a couple of minutes until it starts to look golden and firm. At this point sprinkle your chosen flavouring (see below) on to the uncooked side before loosening with a spatula and flipping the pancake over. Continue frying until both sides are golden.
You can make these pancakes large or small, to your liking. You can serve them simply doused in maple syrup and even with some butter or crème fraîche. Or if you choose to sprinkle with flavouring, try one of these: fresh corn from the cob; crispy bacon or pancetta; blueberries; banana; stewed apple; or grated chocolate.
Grilled Stuffed Brown Mushrooms – Reuben Riffel
Ingredients
8 x large brown mushrooms
8 x thin onion slices
8 x tomato slices
Robertsons Garlic Salt
Robertsons Rosemary
65 Reduced Fat Cheese
3 tablespoons Olive oil
Method
Wipe the mushrooms clean with damp kitchen towel.
Cut off the stems.
Place a slice of onion on top of the mushroom and then a slice of tomato.
Season with Robertsons Garlic Salt and Robertsons Rosemary.
Preheat oven to 450 degrees.
Lightly oil shallow baking pan large enough to hold mushrooms in single layer.
Add mushrooms and toss with 2 to 3 tablespoons oil.
Roast for 20-25 minutes
Mushroom and Egg White Omelette – Charles Masters
Ingredients
2 x tablespoons Olive oil
4 x button mushrooms, sliced
2 x scallions, sliced
4 x large egg whites
Kosher salt and black pepper to taste
30 grams Cheddar, grated (1/4 cup)
Method
Heat 1 tablespoon of the oil in a large non-stick skillet over medium heat. Add the mushrooms and scallions and cook, stirring often for 2 to 3 minutes, or until tender. Remove from the skillet.
In a medium bowl, beat the egg whites with a quarter teaspoon each of salt and pepper.
Return the skillet to medium heat, heat the remaining tablespoon of oil, and then cook the egg whites  for 1 to 2 minutes, or until they begin to set.
Top with the vegetables and Cheddar.
Fold the egg whites over the filling.
These recipes are easy enough to make for dad, or the whole family. Remember that recipes are guidelines when it comes to cooking. Feel free to change toppings and add seasonings to those which your dad loves most.
Bon appétit!
*Browse and compare grocery prices in our latest catalogue listings.