We're all struggling through this national lockdown here in South Africa but don't forget that staying home can be as difficult and stressful for your dog as it is for you. The change in their routine, no more daily walks and visits from regular guests, can contribute to stress and boredom. If you're concerned about your dog missing out on daily walks and exercise or what effect being cooped up inside the house all day might have on their mental well-being then it may be time to start getting creative. From stocking up on food essentials to finding ways to entertain your dog, here is our suggested list of must-haves you need to care for dog during the coronavirus shutdown.
Keep your dog stimulated:
During these uncertain times, when going outside for daily walks and runs with your dog isn't an option, owners can find creative ways to keep their pets occupied. You can still get your dog to exercise in your garden at home or play games that are suitable for indoor spaces if going outside is not possible for you. Play fetch with your dog, create an obstacle course, or let them run around with you in the garden or along the house perimeter on a leash to simulate their regular exercise routine. Hiding toys or food for your pet to find around the house is another great way to keep them and you entertained. It will also provide them with some mental stimulation and simulate the sniffing they do on the streets when they're out for a walk.

Stock up on medical necessities:
Don't forget to stock up on medicines and treatments your dog will need during the lockdown period. This includes anti-flea/tick treatments as well as preventive and intestinal deworming medications.
Keep an eye on your pet's health during this time. Occasionally, give your pet a basic physical exam to check ears, eyes, mouth, teeth, coat, etc. Check your dog's vaccination record to see if their vaccines are up to date or if anything is due for a boost soon. Give your vet a call to ask if these vaccinations are urgently needed or if you can postpone them to a later time. Don't rush to the vet if you notice anything right off. Opt for a phone or video consult first to let a vet assess if a vet clinic visit is necessary. If your dog is on chronic medication, keep in touch with your veterinarian. Most matters can be dealt with over the phone and will not require you to take your dog to the clinic. And, thankfully, emergency vet visits are allowed during this time for when it is absolutely essential to visit the vet.

Keep your pet well-groomed: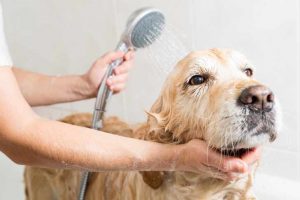 Ensure you have enough grooming materials on your list of things to stock up on. For dogs that need their hair trimmed, you may need to learn to do this yourself for now, since grooming services are inaccessible. Be extremely careful when using grooming equipment on your dog to avoid injury to yourself and to your pet, and do not proceed if you are not confident about handling your pet yourself. If you have a dog with a high-maintenance coat that needs to be groomed often it's best to contact your regular grooming salon for advice on how to care for your pet's coat during the lockdown period.

Buy at least a two-week supply of pet food: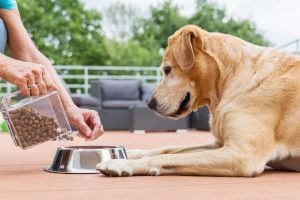 If your dog isn't getting enough exercise you may need to cut down on food portion sizes during this time. You don't want your dog to pick up too much weight during this time. Consider feeding your pet 10 to 15 percent less food during this time and limit treats. Stock up on at least a two-week's supply of food and treats for your dog but be sure not to hoard so you leave enough for other pet owners as well. Being reasonably supplied during the lockdown is enough to get you through this period at home and minimise visits to the shops or home delivery orders.
Avoid visiting the shops during this time. Vet shops and pet food suppliers are considered essential services during the lockdown but there's no need to visit the shops to stock up on pet care items. Use PriceCheck to find the best prices on all your pet care essentials online and have items delivered to your home instead!