If you've got your finger on the pulse of Hollywood celebrity news, then you've no doubt noticed the latest trend in online learning popping up. Celebs and public figures in the US are signing up in their droves to launch eLearning series on the popular 'edumentary' platform MasterClass. As much as we would all love to learn about the ins and outs of being a celebrity manager from Kris Jenner, South Africans are also likely to crave tips and insights from a local perspective too. Thanks to the new South African online 'edumentary' platform, Playbox, learning from local experts is now a reality for those living in the Republic!
Whether it's on a smartphone, laptop, or tablet, South Africans can log in to Playbox for insights from a collection of coaches including Joey Rasdien, Lucas Radebe, Ryan Sandes, Yvonne Chaka Chaka, and Tshepo the Master Jean Maker. In the coming months, Maps Maponyane, Santie Botha, Albie Sachs and Lwando Xaso – among others – will be added.

PriceCheck tip: If you're looking on starting a new hobby, check out PriceCheck, as we have all the best deals on photography, fitness, and other hobbies all in one place.
These exceptional South Africans doing exceptional things are all part of the new and exciting online 'edumentary' platform that's set to shake up and shape up the way we learn. Playbox says its platform features award-winning, trailblasing, and boundary-breaking South Africans putting their hard-won wisdom to work, as they share their skills and their stories with the intention of making a positive impact on South Africa – and the world.
Increasingly, people are accessing online learning from their smartphones, laptops, and tablets, to help them navigate the ever-changing labour market and, interestingly, the highest rate of new learner growth online comes from emerging economies, like South Africa. Online learning platforms are important tools that help to reduce the widening global skills gap by empowering people to learn well beyond the limitations of the formal classroom, and its traditional subjects list, at their own pace and in their own time.
PriceCheck tip: Check out the best deals on media streaming devices and media boxes on PriceCheck.
Cue: Playbox, a proudly South African streaming platform where anyone can learn from some of the nation's most iconic presenters, sports stars, singers, lawyers, fashion designers, chefs and businesspeople (to name but a few), through a series of easy-to-watch 'edumentary' episodes of around 10-minutes each.
Whether it be in business and leadership, photography, cooking, writing, acting, music, sports and more, Playbox promises to deliver a world-class online learning experience.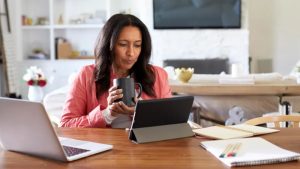 According to Playbox, the platform is built for a South Africa where we all can, because they did. It's built to change lives and honour authentic South African stories by turning them into meaningful, teachable moments. Through Playbox, you can learn skills, hear stories (and secrets), and gain insights into the never-been-told tales of the detours, the disasters, the tears and the triumphs of the humans, and legacies, we admire.
Every episode on Playbox is unique, serving as a reminder that as a nation, as a people, we are unmatched in our resilience, our determination and our humility; and we're wired for greatness, glory and grace – because we have the skills, and the stories, to prove it.
For R199 per month, Playbox says its members get access to top coaches across multiple disciplines, around 10 lessons per coach, compatibility with multiple devices (smartphone, laptop, desktop computer, and tablet,), as well as bonus workbooks and downloadable guides.