We all love a deliciously sweet biscuit with a cup of tea, but sometimes your palette yearns for more savoury eats. Balancing the sweet with bites of savoury is especially important if you're enjoying a full afternoon tea spread, where the sheer amount of sweet treats can become a little overwhelming. Savoury biscuits are a delicious alternative to sweet cookies, and can be served with afternoon tea, a canapé spread, cheese board, or even with a starter at a dinner party. From cheesy smoked biscuits to soft oatcakes, these baking recipes for savoury biscuits are sure to inspire the pastry chef in you.
RECIPE: Savoury biscuits with smoked cheddar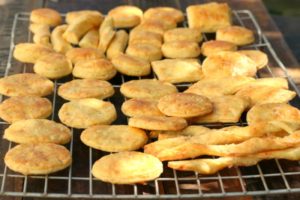 This delicious savoury biscuit recipe from Drizzle and Drip uses smoked chilli flakes, smoked butter, and smoked cheddar for a crunchy favourite that is packed full of smoky flavour. Serve them with scrambled eggs at breakfast or alongside your favourite pastes or cheeses on a cheese platter. These biscuits are also the ideal dinner party treat and can be served with a fresh salad, creamy soup, or steak tartar as an elegant starter at a dinner party.
Click here for the full recipe.
RECIPE: Savoury Biscuits and Gravy
If you've got a soft spot for American cuisine then you'll love these decadent savoury American-style biscuits served with gravy and sausages. When it comes to serving a savoury biscuit with gravy, Americans know how to do it best. This warm, delicious dish from the Kentucky Gent makes for an incredible winter breakfast and is the perfect comfort food during the cooler months. Biscuits, sausage, gravy — this recipe has all the right ingredients for a hearty winter breakfast.
Click here for the full recipe.
RECIPE: Biscuit Mix Drop Dumplings for Stew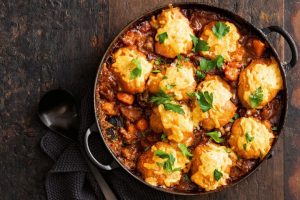 Beef stew with dumplings is a quintessential winter comfort food dish, but it can also be time-consuming to make. Luckily, some clever sausage has always thought of a shortcut. The Spruce Eats blog figured out that while dumplings can be quite a chore to make, using a savoury biscuit mix instead also results in fluffy drop dumplings in no time. Giving you the freedom to make your favourite drop dumpling recipes whenever the craving hits. This recipe calls for an American-style biscuit mix like the one from the Kentucky Gent above. The tasty biscuit dumplings are the perfect accompaniment to a winter stew and are sure to become a firm favourite around your dinner table this winter.
Click here for the full recipe.
RECIPE: Chilli, Rosemary and Poppy Seed Savoury Biscuits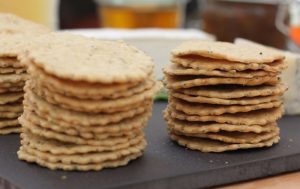 The perfect addition to any cheese board, these savoury biscuits are an entertainer's secret weapon. The biscuits were featured on The Great South African Bake Off and incredibly easy to make. Forget buying the same old boring crackers at the store, these savoury delights will light up your cheese board at your next get-together. They pair brilliantly with mature cheeses and pastes with a bold flavour, will be sure to keep your guests coming back for more.
Click here for the full recipe.
Love baking? Shop for a wide range of recipes books as well as baking essentials online via PriceCheck now: