Considered one of Mother Nature's sweetest tropical fruits (or nuts or seeds, depending on who you ask), coconuts are to be rich with protein, while the milk inside the coconut is light and refreshing with a low sugar level. Besides being a South-East Asian food, coconuts have other uses as well.
Perhaps the handiest use of coconuts is on the inside, the oil, which health activists say contributes to higher energy levels and a stronger metabolism. In fact, coconut oil's benefits have become a hot topic amongst health gurus and nutritional experts, as more and more people turn to coconut oil to better their wellness habits and alter their lifestyle.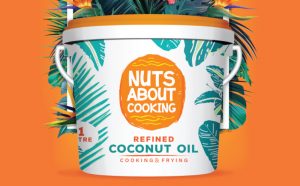 Want to introduce coconut oil into your life? Here are a few innovative uses for coconut oil:
It is a natural anti-bacterial and anti-inflammatory agent which makes it a faultless oil in your daily beauty regime; good for moisturising your hair and body. Use it with your favourite essential oils (but be sure to check which products are suitable for use on the skin).
It helps your digestive system. Coconut oil is very easy to digest, and it contains compounds destroy bad bacteria and promote growth of probiotics. Nuts About Cooking's deflavoured Coconut Oil is available in different shapes and sizes for use in homes or the hospitality industry at an affordable price.
It's an excellent ingredient to treat and prevent skin dryness. This is because it provides a good barrier and holds moisture within the skin. We love smooth, hydrated skin.
Coconuts have been used as an insect repellent (mosquitoes dislike the smell and haze of a burning coconut shell).
This hack is for the guys too! Coconut oil is the perfect after-shave oil because once applied, the oil acts as a barrier to maintain moisture within the skin. We love using Nuts About Cooking's Coconut Oil with a few drops of tea tree oil (5 drops tea tree: 1 Tbsp coconut oil) for the perfect after-shave skin soother.
We hope these uses help you look at coconut oil in a whole new light after these innovative ways in which coconut can be used in our everyday lives. It works well from head to toe, any day, anytime, anywhere.
Find the best price on coconut oil online with PriceCheck now: