Robertson Winery is keeping things light this festive season with its delicious collection of light cultivar wines. The much-loved wine brand first launched its collection of light cultivar wines in 2008, featuring a: Sauvignon Blanc Extra Light, Chenin Blanc Light and Pinotage Rosé Light. Thanks to a great reception from South African wine lovers, the lower-alcohol, lower-calorie wine range was extended to include an Extra Light Merlot in 2011. Now, in 2019, the popular Robertson Winery Light collection has a fresh new look just in time for the summer holidays.
With the trend towards a healthier lifestyle and the stricter enforcement of drinking and driving laws, this refreshing light, fruity style of wine – with lighter alcohol levels and fewer calories – is the ideal solution for anyone looking to keep things light this festive season without sacrificing quality and taste.
The energy or kilojoules in wine come from two sources – the alcohol, and the residual sugar left in the wine after fermentation. All four wines in the Light Cultivar range have lower alcohol levels, around 9% compared to the normal 12 or 13%. In addition, the Sauvignon Blanc and Merlot are termed Extra Light because they are extra dry (with 2.5 grams/litre (g/l) or less residual sugar) resulting in a third less calories than regular wine.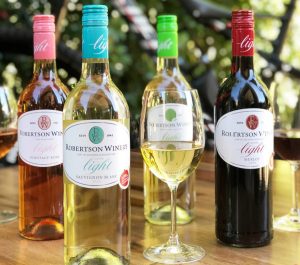 This festive season, be sure to look out for the four wines in Robertson Winery's Light Cultivar Range, all freshly adorned with stylish new packaging. The refreshingly zesty, dry white Light Sauvignon Blanc 2019 offers notes of freshly-cut grass and green pepper, with a grapefruit zip and is ideal for summer sipping around the pool. The Light Chenin Blanc 2019 is a delicious off-dry option for those who like a touch of sweetness. With notes of yellow apple, pear and floral notes, this wine will be the perfect accompaniment to a summer salad.
If red is more your style you'll love the Extra Light Pinotage Rosé 2019. This off-dry wine with upfront red cherry and ripe strawberry notes is the ideal in-betweener for summer sundowners on the patio. If you're looking for a bold red to enjoy at a braai, you can't go wrong with the Extra Light Merlot 2018. With enticing aromas of mulberry, cinnamon and spice lead to ripe plum and sweet black cherry flavours, this wine does well when paired with meaty dishes.
The Robertson Winery Light range is available in South Africa. Shop a wide range of low-alcohol and alcohol-free drinks as well as local wines and spirits via PriceCheck now.