If you love to travel, you no doubt understand the importance of having a great camera along with you for the ride. While your smartphone is more than capable for everyday snaps, when it comes to travel photography, it's often better to have a dedicated camera to capture those unforgettable memories. Created with travel-lovers in mind, Canon's PowerShot SX70 HS compact camera offers a great argument for investing in a dedicated camera for your next trip.
With a 20.1MP high-sensitivity CMOS sensor powered by Canon's latest image processor DIGIC 8, the PowerShot SX70 HS is able to capture the crisp details of beautiful landscapes, age-old landmarks, and grazing animals that you may come across on your travels. While your smartphone camera is suitable for taking a quick snap of the kids on a beach, if you want to capture more detail or want a better quality photo then a compact travel-friendly camera like the PowerShot SX70 HS is well worth investing in.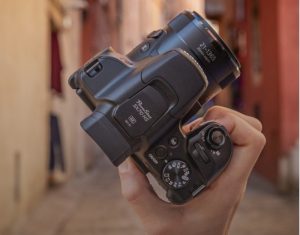 In addition to excellent picture quality, one of the most important features in a travel camera is the zoom. If you need to get up close and personal with your subject, Canon's superzoom compact camera will help you get there, no problem. When huge crowds at tourist hotspots prevent you from getting up close to big attractions for a snapshot, having a camera like the Canon PowerShot SX70 HS in your pocket is invaluable. The Powershot's high optical zoom that can go up to 65x, enabling you to get a clear shot of the landmark you travelled so very far to see without having to get too close.
Coupled with the camera's incredible zoom capabilities you'll also get a wide zoom range of 21mm, the widest angle in a camera of its class, allowing you to capture landscapes and breathtaking scenes in their entirety. What's more, The model's Dual Sensing IS and improved AF speed help to reduce camera shake, allowing for superb image quality, even in low-light conditions. The super-fast autofocus system on the device also means you'll be able to focus faster (particularly in low light) and track moving subjects better.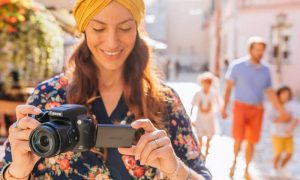 Once you've captured your shots, the SX70 HS makes it incredibly easy to share your snaps on social media. To share your snaps, simply use the built-in WiFi to easily transfer photos from the camera to your smartphone via the Canon Connect app. From there you can upload your photos to Instagram or Facebook.
For a general-purpose point-and-shoot, the Canon Powershot SX70 HS is hard to beat. It's the perfect everyday camera and an ideal travel companion for families wanting to capture holiday snapshots. Whether you're capturing precious personal moments, sporting events, or wildlife, the SX70 HS ensures you get the shot when it counts the most.
Shop for the Canon Powershot SX70 HS and other camera and photography equipment at the best price online with PriceCheck: