Whenever we are willing to spend money on something of our choice, we always wish for it to be worth it. Similarly, when it comes to buying watches, we want them to be the best. Therefore, if you wish to buy a watch for yourself, then you must be aware of the following things before you let your heart choose the one.
1. Brands
Of course, a key factor when it comes to buying a new watch is first considering the best and most established brands in the industry. The likes of Swatch, TAG Heuer, and Fossil are well-known watch brands which all come with an expectation of quality. However, there are a lot high-fashion brands, such as Diesel and Armani, who also produce great watches.
2. Water Resistance
Water-resistance is not what you think. No watch can honestly be labelled 'waterproof' because it's too hard to guarantee. And 100m water resistance does NOT mean you can wear it 100m underwater with no problems.
Water-resistance is the measurement that is done by a pressure test in a laboratory which is equal to that of the static water pressure, combined with immersing in 10 cm of water for an hour. In reality, watches generally come in contact with water pressure, which is anything but static. For example, waves in the sea, diving and even a shower.
What the Numbers Mean
No water resistance = don't even get it wet.
30m water resistance = splash-proof – you can take a walk in the rain.
50m water resistance = you can put it in water but don't swim with it.
100m water resistance = you can do a bit of swimming on the surface.
200m water resistance = the closest you can get to waterproof without buying a luxury diving watch.
PriceCheck can help you find the best prices on water-resistant watches. Whether you want it for boating, swimming or scuba diving, you will get the kind you wish to get.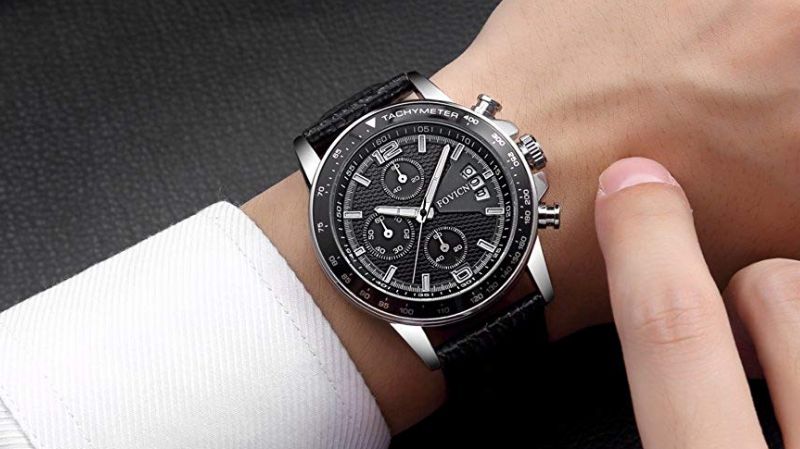 Featured product: FOVICN Men's Waterproof watch (with more offers)
Mud resistance is not the same as water resistance. Small mud particles can get in around the buttons on a normal watch. Mud-resistant buttons use a cylinder type guard structure with gaskets for shafts and cylinders.
3. Weight
Weight is a sign of quality and generally indicates solid construction. Always feel the weight of the bracelet and the case to ensure that it is substantial enough for justifying your investment.
On the other hand, also consider if the watch is too heavy for daily use. Some oversized watches weigh a lot and are not suitable for daily use.
4. Signed Crown, Buckle, Or Clasp
Prominent logos don't necessarily mean quality. There are typically four places that you'll watch to see the name of the watchmaker: on the face of the watch, the case back, the crown, and the deployant clasp or strap buckle. These are also known as signed crowns or buckles/deployant clasps.
The manner of "signing" can vary, but at lower price levels it's usually some type of light laser engraving. Higher priced watches have logos and graphics are done in relief (raised, versus etched into the metal).
The Bottom Line
Buying a watch may seem to be a difficult task. However, once you know what to look for in them, your task becomes easy and the watch becomes more useful and worthy of the money. Get your watch when you know what you want from it.