While Kindle has become a name synonymous with e-readers, there are in fact alternative e-reader options to Amazon's mighty e-reader. Kindle is by far the most popular brand of e-reader on the market, but there are many reasons to research alternatives to the Kindle brand. For example, the high price tag on Kindles is one reason many people search for alternatives to the Kindle e-reader. If you are looking for a Kindle alternative, here are a few great options to choose from and things to consider before buying an e-reader.
Content 
Just like with streaming services and TV shows; when it comes to e-reader tablets, the content available on a device is a key consideration when choosing which one to buy. One of the biggest reasons Amazon's Kindle devices are so popular is simply because Amazon has the rights to a slew of content that won't be available on most of the other brands of e-readers. Although Kindles do come at somewhat of a premium, for the exclusive content it may prove to be worth the splurge. Almost a million of the 3.5 million titles available on Amazon's store are exclusive to the Kindle. However, if you're a casual reader who isn't too bothered with having the latest best-selling books then another, more affordable brand of e-reader could work just fine for your needs.
Connectivity
It's important to decide whether you want your e-reader to have the ability to go online via a WiFi connection. Many e-reader brands on the market offer both WiFi and 3G connectivity options but a few, more affordable e-reader options only offer WiFi connection. For those who travel often or who would want to download new content while they're out and about a 3G-enabled e-reader may be very important.
Onboard Storage
Another important thing to consider before buying an e-reader is the rate at which you consume books, magazines, and other reading material. This is important to consider as it will help you determine how much onboard or built-in storage you will need on your device. Books aren't nearly as storage-intensive as audio or video content, so a few gigs of storage space should be sufficient for several hundred novels. Some e-readers do come with expandable slots so additional memory can be added, and this might be a crucial feature for someone who wants to have access to a massive amount of content.
Convenience Features and Functions 
E-readers have a number of auxiliary functions that add to the ease and enjoyment of using them that will be down to each individual buyer's preferences. Some of them are waterproof, have variable text sizes to accommodate people with varying qualities of eyesight, adjustable backlights for power-saving, and even come in varied dimensions to increase portability. Before buying an e-reader consider how important all of those factors are to you.
Now that you've had some time to consider what features you would like in your e-reader, here are some alternatives to Kindle's e-reader:
Kobo Clara HD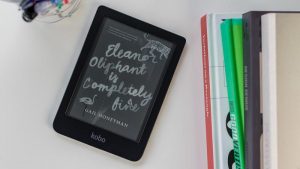 If Kindle isn't your thing, try the Kobo Clara HD. The perfect reading companion for any book lover, this device is a great alternative to a Kindle e-reader. It always provides the best light to read by with ComfortLight PRO, and a natural, print-like reading experience on its 6" HD screen. Easily customisable features help customers new to eReading to read the way they prefer. With 8 GB of on-board memory and the ability to carry up to 6,000 eBooks, Kobo Clara HD always has room for your next escape
Shop for the Kobo Clara HD e-reader at the best price via PriceCheck now:


Kobo Aura H2O Edition 2
Both waterproof and dustproof, so you can take it from the bath to your bed, worry-free, the Kobo Aura H2O Edition 2 e-reader can go almost anywhere with you. The device also features 8GB of internal memory, enabling you to store up to 6,000 books at a time.
Shop for the Kobo Aura H2O Edition 2 at the best price via PriceCheck now: