First it was mobile phones, and now it's televisions getting the 'smart' affix added to their name. But, while smartphones have become a "household name" with most people understanding how to use them, smart TVs are still a mystery to many. Of course, it's only a matter of time before the majority of consumers swap their regular televisions for smarter versions so it's best to educate yourself on the pros and cons of this relatively new device, especially if you plan on buying a new TV in the next few years.
To help you get started, lets take a look at the details of smart TVs, what they can and can't do, and what you should look for if you're going to be buying one in the near future.
What makes a smart TV 'smart'?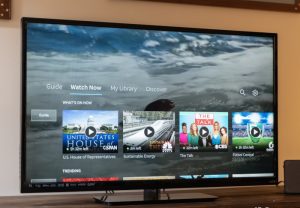 What differentiates smart TVs from conventional ones is the same thing that separates normal cellphones from smartphones; constant internet connection. Smart TVs rely heavily on being connected to the internet, through WiFi or a LAN cable, in order to add functions and app access to its repertoire that you normally wouldn't find on a television. Many of the popular apps we associate with smartphone's, tablets, or gaming consoles are now available on smart TVs like Netflix, YouTube, and Showmax. Of course, this comes with the drawbacks of any device requiring a consistent internet connection: If you're having internet problems the functionality of a smart TV will become more limited.
Which brands make smart TVs?
Almost every big brand that's known for making conventional TVs is now producing smart ones, as well. Samsung, Sony, and LG are the more recognisable brands that offer smart TVs in multiple price brackets, but due to the growing popularity of smart TVs, many lesser-known brands, such as Hisense, are also releasing their own, more affordable versions with equally impressive displays. Keep in mind though, when it comes to TVs, you usually pay for what you get. And another thing to consider is software support from the company that produces it. Needing updates and support for software means you generally want to stick to an established brand, because you want to know there will be dependable updates to the firmware and applications so that you have the best experience.
How does a smart TV connect to the internet?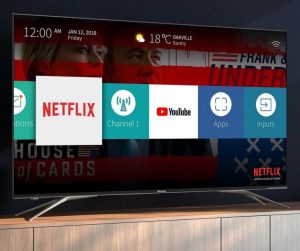 Luckily smart TVs are effectively like massive tablets and will use the same kinds of internet connectivity ports and systems as most of the devices you already own. You'll either connect through your home's existing WiFi network and go through the same procedure of finding the WiFi network name and entering a password, or you'll have a LAN cable that you connect to an Ethernet port on the television itself. One potential aspect to be aware of is the placement of your router in relation to the TV – it will need to be as close as possible to ensure a strong connection and smooth streaming.
What apps and services are on a smart TV?
The usual streaming apps like Netflix, Showmax, Amazon Prime Video, and Hulu are the standard apps available on almost all smart TVs. As smart TVs have become more popular and more brands manufacture them, the different apps and services have also grown. Different brands will use different software and 'operating systems' for their TVs, some of them being designed by the manufacturers themselves. Companies like Android and Roku have their own operating systems that are being used by multiple brands, with Sony and Hisense having elected to use Android TV on their smart TVs. Just like smartphones the look and feel of each smart TV will be unique, but the best experience will come from the brands using well-designed and established smart TV platforms.
Is streaming all a smart TV can do?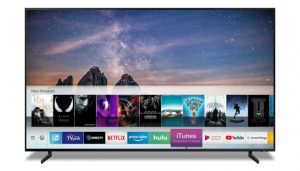 Technically, no. The latest trend for smart TVs is to become hubs for all the smart devices in a house. The 'Internet of Things' is a growing concept where almost all electronics and appliances in a home will be inter-connected and managed from one or two devices, and smart TVs are going to be the likely super-device to do it from. At the moment devices like Google Home and Amazon's Alexa speakers can be connected to many smart TVs, and allow voice-operated commands to be issued to the TV in the same way as a smartphone. If you're looking for a television that works with Alexa or a television that is compatible with Google Home then it may soon be easier than ever before to find a smart TV that is able to follow voice prompts.
Set top boxes that give conventional TVs the ability to have smart functions are also a great option, but they're a little untidy and mean you have to have an additional device connected to your TV. If you want the most enjoyable experience a smart TV is the best way to go, and they're becoming more and more affordable with each passing month.
Find the best smart television for your budget online with PriceCheck. With a wide variety of smart TVs and home entertainment accessories from a multitude of online stores, PriceCheck takes the chore out of shopping around.