While you may have been advised otherwise, money is not the only consideration when it comes to choosing the best synthetic grass for your needs. Whether you're looking to cover a large lawn area or spruce up a small back yard with the low-maintenance green stuff, there are several other factors to consider before buying a roll of evergreen lawn. Here's everything you need to know about buying artificial grass in South Africa:
Assess your needs:
The first thing you will need to consider is what you will be using your artificial lawn for. It's best to get the type of artificial grass that will suit your needs. The key thing to remember is that it's vital to look at more than just the aesthetics of the artificial grass you're thinking of investing. Of course, it's important that the grass looks good, but it also needs to perform well to ensure a long-lasting, lush green lawn.
There are generally five main types of usage for an artificial lawn namely an ornamental or show lawn (low traffic intended to improve the aesthetics of a garden and reduce maintenance), family lawn or play area (heavy traffic and high levels of usage all year round), pet-friendly lawn (heavy traffic that will also need to handle urine and excrement), entertainment lawn for garden parties (occasion heavy traffic that can also cope with spillages and stains), and an all-rounder (moderate traffic with some or all of the above-mentioned uses). Each of these uses will require a different type of artificial lawn to suit your needs.
Consider the different materials:
There are many different types of artificial grass, all with varying strengths and weaknesses to suit different needs. It is therefore important to take into account the material used to make the grass you're thinking of buying. For example, a grass made from a nylon plastic fibre is designed to be hard-wearing. While this type of grass will last a long time, the trade-off is that nylon is not quite as soft as polypropylene or polyethylene, the two other types of artificial fibre used in manufacturing artificial grass.
Nylon is also more expensive, so it's used for an area that will get a lot of foot traffic and be put through its paces often. If, however, your lawn is just for ornamental purposes to improve the aesthetics of a garden whilst dramatically reducing maintenance, then you'll be able to go with a less hardy material.
Take height and aesthetics into account: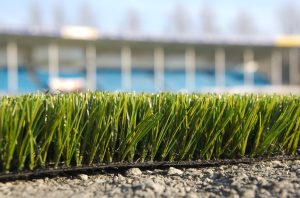 First off you'll want to consider the grasses 'pile height'. This is often just a matter of taste. If you like the look of freshly cut grass, anything between 25-30mm is a good choice. For a natural-looking lawn, you're better off choosing something between 30-38mm. If you opt for anything longer than this the fibres tend to lie flat under their own weight rather than standing upright. Shorter pile heights also tend to perform better on grasses manufactured using either polypropylene or polyethylene. The hardier nylon, on the other hand, doesn't often show performances differences in lengths between a 25mm and a 35mm pile.
Perhaps more important to take into account is 'pile density'. Comparing the pile density of different artificial lawns is the key to finding the grass that will work for your needs. The greater the pile density, the more lush the grass will look. Low pile density fake grass can look sparse and thin. For heavy use areas, it is recommended to opt for a dense pile with somewhere between 16,500 and 18,000 stitches per square metre. For a low-traffic ornamental lawn, you can consider a more cost-effective, thinner lawn with somewhere between 13,000 and 16,000 stitches per square metre.
If in doubt when choosing the best pile density, it's advisable to go with something between 16,000 and 18,000 stitches per square metre as a good all-rounder.
Don't forget about the colour:
Like pile height, colour choice is also entirely dependent upon personal taste. Most artificial lawns come in a wide range of colours and differing shades of green. Ask the manufacturer for a sample of the lawn you're thinking of buying before you take the plunge and lay it down where the turf will be laid to make sure you like the shade you've chosen before it's installed. Different lighting conditions will make the artificial grass appear lighter or darker than they appear in the showroom. If your garden is sheltered and receives little sunlight, it may be best to choose a light coloured artificial lawn as it will brighten up your garden.
Inspect the backing: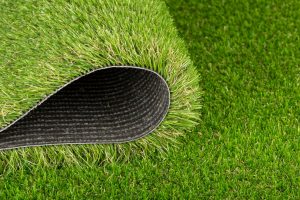 Before you buy an artificial lawn make sure you check the backing. A good way to check the quality of artificial grass is to look at the backing. Artificial grass backing is made up of primary and secondary layers, the plastic fibres of the artificial grass are stitched to the primary backing layer of material while the secondary backing layer used during the manufacturing process is typically made from latex. This is basically the 'glue' that holds everything together. With poorer quality artificial grasses these layers can separate due to low quantities of latex having been used.
To test the quality of the backing try to pull the layers apart with your hands. The easier this is to do, the lower the quality of the artificial grass. It's extremely important to ensure you're buying artificial grass where high levels of latex have been used, not only to prevent an artificial lawn from separating but also to prevent yarn loss. A lawn with a poor-quality backing will eventually start to thin out over time and become matted, looking unnatural.
Consider fibre thickness:
Finally, it's important to consider synthetic fibre thickness. Natural-looking artificial grass can only be achieved with upright fibres. When the fibres of an artificial lawn lie flat this is called 'matting'. Matting is most often caused by thin fibres. Whilst your chosen artificial grass may look great initially, heavy usage will break down thin fibres quickly.
Before you buy artificial grass break off a fibre from each sample and compare fibre thickness. The thicker the fibre, the better it will perform. This thickness is often measured and displayed to consumers in microns with fibre measuring 200/99 microns being considered to be very thick.
Find the best prices on artificial grass online with PriceCheck now. Offering a wide variety of garden essentials from a multitude of online stores, PriceCheck takes the chore out of shopping around.