So, you're looking for somewhere to store your favourite vino? Wine connoisseurs will tell you it's easy for your good time juice to take up valuable real estate in your fridge, leaving you little space for groceries. Of course, there's also the issue of finding the perfect temperature for your drinks while also preserving your food. If you'd rather not deal with this struggle on the daily, it's time to invest in a wine fridge. But, with so many options on the market how do you choose the best wine fridge for your needs? Here are some things to consider when choosing a speciality fridge for your needs.
What drinks are you storing?
The first, and perhaps most important thing to consider when choosing a wine fridge is which drinks you will be storing in your bar fridge. Will you be primarily be cooling wine or a bit of everything? If you're primarily storing and cooling white wine, a speciality wine cooler is probably your best choice. For those who also love a good brewski and dream of having their own beer and wine fridge, a bar fridge is most likely a better choice.
Size matters
First off, you will need to think about size. If you're looking to store wine bottles in your fridge, you will need a bit more space than a small mini bar fridge. Wine coolers are specifically made with wine bottle storage in mind whereas a mini bar fridge is the ideal size for storing beers and other drinks along with your wine.
A beverage cooler is a better option for storing and cooling beers and wine together. Like a wine fridge, these types of fridges often also have glass doors in order to display the drinks inside. This type of cooler usually doesn't offer the adjustable shelves or door storage that a larger refrigerator does, but they are the perfect size for storing your wine bottles and beer cans in an efficient, stylish way.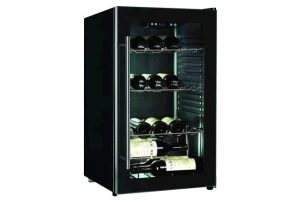 Featured product: Kelvinator 150 Litre Wine Cooler.
Keeping it cool
Temperature is also an important factor to consider. Check the temperature range of the fridge you're considering to ensure it can reach the optimum for your beverage of choice. For example, a wine cooler is set to a higher temperature range than a refrigerator or beverage cooler because wine should not be stored as cold as other beverages. On average a wine cooler will not offer temperatures below 8 degrees. If you're looking to store your wine at the optimum temperature, invest in a single zone fridge and set it to 15 degrees. Good for both your reds and your whites.
A beverage cooler has a wide temperature range so it may be used for wine, beers, and other drinks, but keep in mind if you want to store different types of drinks at the same time you will either have too-cold wine or too-warm drinks depending on how you choose to set the internal thermostat.
Find the right price
If you've always thought that a dedicated wine or drinks fridge is something you would only find in the homes of the rich and famous, think again. There's a wine cooler or bar fridge at every price point, so you can get the right combination of storage capacity, features and looks to build the home entertainment centre you've always wanted.