Dishwashers have become an essential part of any modern kitchen. Of course, to meet the increased demand for this game-changing kitchen appliances there has been an influx of different types of models and brands in the South African market. With such a large variety of models to choose from, picking the right dishwashing machine to suits your needs can be a tough task. To help make your decision a bit easier we've put together this buying guide of everything you need to know before buying a dishwashing machine in South Africa.
Capacity
The first thing you'll need to consider is capacity. It is important to choose a dishwasher that is the right size for your household's needs. A dishwasher that is too big will never be filled often enough to warrant turning it on, whereas a dishwasher that is too small just won't be able to keep up with the needs of a big family. There are compact, standard and large models available, all with different load sizes to cater for any size household.
To work out what's best for your household take into account that a standard size dishwasher can accommodate around 14 international place settings (with each setting comprising 1 soup bowl, plate, dessert bowl, teacup and saucer, drinking glass, as well as 1 knife, fork, soup spoon, dessert spoon and teaspoon. If you're not using anywhere near that amount of dishes every second day then you're probably better off with a smaller model.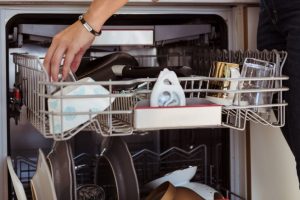 Wash programmes
You'll also want to consider what kind of wash programmes a dishwasher has. The more wash programmes the dishwasher has, the better you can economise by selecting a cleaning level according to the amount of dirt on the dishes and the size of the load.
Basic wash programmes usually include light, normal and heavy-duty wash programmes but, newer high-tech models also boast a number of different settings for added convenience and energy efficiency. Features like a quick wash setting to small lightly soiled loads, super-intensive setting for heavily soiled pots and pans, economical setting, and an extra quiet or gentle setting for delicate china make owning a dishwasher even more exciting.
Energy efficiency
While old school dishwashers used loads of electricity and water, these days there are many eco-conscious alternatives on the market. Choosing an energy-efficient dishwasher can save you money in the long run.
Many modern dishwashers also offer features geared towards added energy efficiency when washing dishes. Features like delay start, which allows you to delay the start of the programme by up to 24 hours, so that your appliance will only switch on in off-peak periods when you're not using too much power at home. Quick-rinse cycles are also useful, especially if you are on metered water use.
Automatic sensors are another great feature that helps save water and electricity. Automatic sensors allow the dishwasher to automatically adjust the water consumption and temperature to suit the level of dirt on the dishes for a truly automatic programme. This coupled with a load recognition feature, which helps the dishwasher to sense the load size and allow for a suitable amount of water to enter the dishwasher, is a great way to increase energy efficiency when washing your dishes.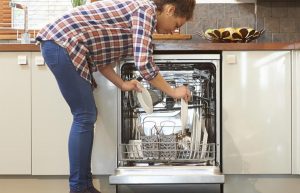 Noise reduction
How noisy your dishwasher is when it is in operation can be a very important factor to consider, especially if you have an open-plan kitchen and living area design. Check out the machine's noise rating in the EU energy guide to figure out how noisy it is. A dishwasher with a low sound emission when in use should emit a low rating of around 43dB (A).
Stacking and racking features
Of course, the machine's stacking abilities are also important. Look for a machine that has adjustable or removable shelves and racks, which can be individually aligned to accommodate various irregular-sized items such as tall stem glassware, as well as oddly shaped and bulky items. The more options you have, the more your dishwasher will be able to accommodate all your washing-up needs, including baking, large-scale entertaining, baby bottles, and so on.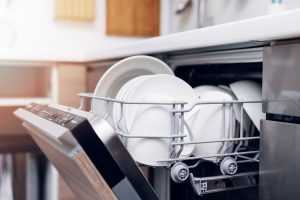 Drying capabilities
If you're all about ease of use then a very convenient feature to look for in your dishwasher is a drying feature. If you have limited space, you will no doubt want your dishes to come out of the machine clean and dry. Some machines offer better drying functionality than others, so be sure to look into what drying features various models offer.
Some models boast a function that adjusts its drying capabilities to suit the load size and the ambient temperature of the kitchen. Some luxury models boast a very useful drying function that automatically opens the dishwasher door at the end of the rinse and drying process to allow steam to escape and let cool air in to circulate so your dishes don't come out damp.
Safety features
Safety features are another important consideration, especially if you have a family with small children. Important features to look out for include a child safety lock, which comprises a special switch that can be turned to prevent children from opening the door and accessing the cabinet while the machine is on.
Other useful safety features include a waterproof anti-leak system to help avoid any possibility of water damage to the dishwasher's surrounds.
Design
You may also want to think about the aesthetic appeal of the dishwasher you choose. Most dishwashers come in a standard white, for a traditional, practical look that will complement virtually any kitchen design, but these days a stainless steel finish is also popular. Some models with a stainless steel finish are prone to fingerprint and oil marks so make sure you choose one with a special coated finish that looks like stainless steel, but is also resistant to fingerprints and other marks.