A bean-to-cup coffee machine is a great investment for anyone wanting to enjoy barista-quality coffee in the comfort of their own home. These machines are becoming increasingly popular in kitchens across South Africa, especially now that many South Africans are spending the bulk of their time at home. These machines can produce high-end quality coffee, from freshly ground coffee beans, at the touch of a button. Talk about convenience. But, with so many bean-to-cup coffee machines on the market, how do you know which one is the best for your needs? We take a look at what you need to know before buying a bean-to-cup coffee machine in South Africa.
What is a bean-to-cup coffee machine?
A bean-to-cup machine stores and grinds whole coffee beans on demand to produce a range of espresso-based beverages at the touch of a button.
The major benefit of any bean-to-cup coffee machine lies in the appliance's ability to grind beans on demand. Making coffee with freshly and effectively ground beans allow the maximum flavour, aroma and freshness of the bean to shine through, resulting in a superior cup of coffee that showcases the perfect 'crema' – the natural creamy textured layer that is so often lost.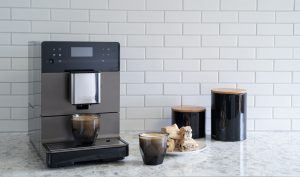 Pay careful attention to the grinder
The coffee-making process starts with the upper chamber, where the beans are stored in an airtight container. From there, the beans fall into a grinder, so that when you are ready for a cup or two, the grinder will activate and, depending on the setting you have chosen, it will create a coarse or smooth grind. This feature is probably the most important element of a bean-to-cup coffee machine, as the quality of the grinder will drastically affect the quality and aroma of your cup of coffee.
As such, it is better to spend a bit more and purchase a machine with a high-end quality grinder. A machine with a high-end, non-abrasive steel grinder will offer you maximum durability, ensuring your machines last for years to come, with the perfect grind every time. Opt for a machine with burr grinder rather than a blade grinder as this will ensure a much better grind every time.
Burr grinders work by crushing the coffee beans against a static surface with a grinder wheel. The coarseness/fineness of the coffee grounds is set by the position of the burr and you are able to dictate the size of the coffee grounds much more accurately and consistently than with a blade grinder. While more expensive, conical burr grinders are generally accepted to be the best type of grinder available, as they create less mess and are relatively quiet compared to a blade grinder.
Convenience is key:
When it comes to investing in a bean-to-cup machine, it's important to consider the convenience features. Many bean-to-cup machines are equipped with OneTouch functionalities to help simplify your coffee-making experience. Some coffee machines, for example, feature 'OneTouch', and 'OneTouch for Two' functionalities, which allows you to prepare one, or two coffee specialities simultaneously, by simply touching a button.
It's also important to consider whether you want customisation and user profile features. A high-end bean-to-cup machine will allow you to customise and save your personal coffee preferences. On these machines preparation parameters can be set individually, depending on your preferred type of coffee and flavour intensity – these include grinder setting, amount of coffee and water, brewing temperature, and pre-brewing protocols. You can also save your favourite drinks on your personal profile.
A timer is another useful convenience feature to look out for. This very useful feature allows you to programme the machine to switch on and off according to your needs. This way, coffee can be made as soon as you get up in the morning, and the machine will automatically switch off when you leave for work.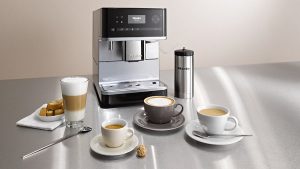 Branch out:
While coffee may be your main squeeze, you, your family members, or guests might enjoy a different kind of hot beverage from time to time. If you're looking to branch out and make more than just coffee, then it's important to look for a machine that offers versatility.
Most modern bean-to-cup machines can prepare a very wide variety of coffee specialities, and some can even brew tea to perfection. A machine like the Miele CM7, for example, can make up to 21 different types of hot drinks automatically – aside from mastering a wide range of Italian coffee specialities, it can also produce the individual preparation of various types of tea. Whether green or black, herbal or fruit tea, the water is always dispensed at the optimum temperature for the perfect tea flavour.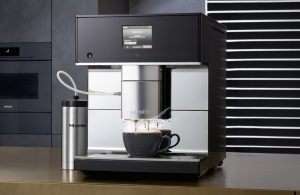 The importance of a milk frother:
Any bean-to-cup coffee machine worth its salt should also offer a milk frother as well. Look for a machine that can prepare hot milk or milk froth for a wide range of hot drinks, with an attachment that can be easily cleaned in the dishwasher.
Keep it clean:
Speaking of easy cleaning: The cleaning of your coffee machine should be as easy as possible. If your budget allows, look for a self-cleaning machine with an automatic descaling programme as well as easily removable parts (such as the drip tray, water and waste container, and brew unit) to ensure the highest hygiene levels can be maintained and your coffee tastes great every time.
Find the best prices on bean-to-cup coffee machines on PriceCheck now: