The lifting of the alcohol ban means we can all start buying and indulging in our favourite tipples again. For gin lovers, there's no better time to take stock of your gin collection (or lack thereof) and plan the exciting new purchases that will soon grace your gin cabinet. But how do you decide which gins to invest in over the coming weeks? Check out our buyer's guide to restocking your gin cabinet so you don't waste too much precious G&T sipping time on shopping around. There's tips on what to consider when buying a gin to suit your taste as well as our top picks for some of the best gins available in South Africa,
Declutter
Take a good look at your existing cabinet (or whatever space you intend to use to store your gin) and identify what is worth keeping and what needs to go. Maybe you have some chipped glassware, an old bottle of port gathering dust or miscellaneous items cluttering your cabinet. Can you give these to a friend or donate to a charity?
At this stage of lockdown, there are bound to be a few empty bottles lying around. Consider repurposing only the most eye-catching vessels as flower vases or candleholders, or fill with fairy lights to add some flair to your cabinet. The rest can be recycled.
Do your homework
Now that your space is decluttered and prepped for your impending purchases, it's time to research what those will be. Luckily, there's an app for that! Your guide to finding the perfect serves and top-rated gins around the world, the Ginventory app enables you to search for different gins, tonics and garnishes in a flash. Each gin brand is rated out of ten by gin enthusiasts, so you will be sure to find some delicious additions, many of which you'll be able to order online.
Diversify your collection
While internationally renowned brands are great to have in your gin arsenal, there are also many local craft gins on the market that are well worth adding to your collection. Make sure that you have a variety in your cabinet to suit your mood and cravings. Here are our must-haves for any gin collection:
London Dry-Style Gin
This style of gin is made in one shot, meaning that the botanicals must flavour the gin during distillation, with no further infusions added afterwards. A staple in every gin cabinet, a London Dry style gin can be enjoyed neat, as a gin and tonic or used to make a dry Martini.
Start off your collection with an old faithful like Gordons gin, which blends to a smooth, easy to drink gin that works well in gin and tonics. For a local take on London Dry-style gin try something like Six Dogs Karoo, Bloedlemoen, or Cruxland Gin.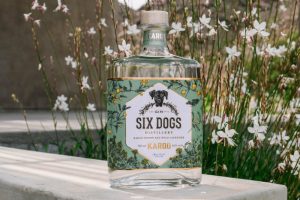 Infused Gin
This modern method of gin-making involves the addition of often delicate botanicals after the distillation to further infuse the gin with their flavour or colour. Infused gins are perfect for cocktail making and impressing your guests with their often bold colours and flavour profiles.
For a local take on infused gins try Harmony Honeybush, Inverroche Amber and Six Dogs Blue.
Unusual Gin
If you're after something a little out of the ordinary invest in some eye-catching bottles and unique flavours to ensure your gin cabinet is the focal point of your space. Try local favourites like Muti Gin, Indlovu Elephant Dung Gin and Six Dogs Pinotage Stained.
Choose good tonics and garnishes
Now that you've got the gin sorted it's time to focus on what you'll mix it with. A quality tonic water is key for a rocking G&T. If you've invested in premium gin brands, it's important to bring out the flavours of your gin by using good-quality tonic water. Invest in some Indian tonics that won't overpower the delicate botanicals of your gin as well as a couple of flavoured tonics for when you feel like mixing things up. We recommend trying Fitch & Leedes and Barker and Quin for their craft-take on tonics and mixers.
As for garnishes. Keep some fresh citrus handy to naturally infuse your gin and add a pop of colour to your cabinet. A selection of freeze-dried and pre-packaged fruit and spices will ensure you always have garnish on hand and give your guests an interactive experience come cocktail hour. Make life easy for yourself and add a box of Secco Drink Infusion gin garnishes to your basket.
Find the best prices on gin and other spirits online with PriceCheck now: