Following this week's news of the death of the world's last remaining northern white rhino in Kenya, it is now more important than ever for everyone to make a contribution to saving these beautiful animals. Prima Toys and Wildlife ACT have joined forces once again to raise funds for orphaned baby rhinos through the sale of furry Wildlife ACT Rhino Coin Banks, and adopting one of these plush toys is a great way to show your support.
Through the sale of these super cute toys, Prima Toys and Wildlife ACT hope to also raise awareness about rhino poaching and conservation efforts amongst children and younger generations. A portion of sales from the toys will be donated to Wildlife ACT, a registered non-profit organisation dedicated to preserving endangered species in South Africa.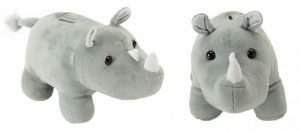 The money raised will specifically go to organisations that care for baby rhinos that have been orphaned as a result of poaching. The funds have been earmarked to be used to sponsor the teams that find and rescue the baby rhinos; the formula needed to feed them, and the upgrade of security where the rhinos are held until they are ready to be released.
These cute, cuddly 'piggy banks' will be available at all leading toy stores and supermarkets for R199.99, and for every purchase, Prima Toys will donate R10 to Wildlife ACT.
Shop for wildlife toys online here.
Want More Lifestyle News? Check Out Our

Lifestyle

Section For More great Reads!