With so many hot styling tools on the market, picking the right one for your hair type and texture can seem daunting to say the least. There are loads of things to consider when choosing the best hot hair styling tools for your needs, most importantly: your hair type and texture. Whether you want to go curly or straight, you need a hot styling tool that works with your texture. Not sure where to start? Use this guide to find a styling tool your hair will absolutely love.
Choose your weapon
If you're looking for a hair straightener or a curling wand, it's important to know your tools and to select the best type of tool for your hair. The materials the product is made from are incredibly important and you'll need to decide which material you think is best for your hair and your styling needs.
Flat irons and curling wands that have ceramic plates distribute heat evenly and consistently to help cut down on styling time and damage to the hair. Double-check the packaging of the styling tool before you purchase to ensure the plates on the product are 100 percent ceramic. Ceramic-coated plates won't last as long and the coating will eventually wear off, cutting down on the life of your styling tool. If you're concerned about frizz and boosting shine, look for tools that have tourmaline in the plates as this material will help to seal the hair's cuticles when styling.
It's also important to consider your hair texture when selecting a tool. Here's how to choose the right tool for your hair texture: 
FINE HAIR
Flat iron:
If you've got fine hair, you don't want to lose precious volume when styling. Pick a flat iron with bevelled edges to help smooth hair without making it too pin-straight and flat. To avoid frying your hair strands and reduce frizz, reduce your iron's temperature to medium or 150°C.
Curling iron:
Fine hair is notoriously difficult to curl and many women find their curls drop out very quickly after styling; and this is often due to using the incorrect tool at the incorrect styling temperature. Thinner curling wands give fine hair the best curl, so look for a wand with a 20 to 35mm barrel without a clamp. Hold the wand vertically to form lush, undone waves. Look for a wand that allows you to control the heat and style at medium temperature or at 150°C, as too much heat makes fine curls droop faster.
PriceCheck Picks: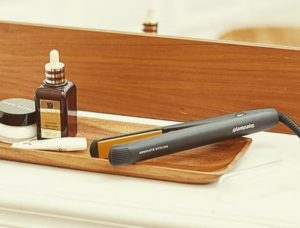 Best flat iron for fine hair: Glampalm Standard Magic Series iron.
Best curling wand for fine hair: Remington Pro curling wand.
MEDIUM TO THICK HAIR
Flat iron:
If you've got thicker hair, it's best to choose an iron that you can set to a higher temperature. Opt for a styler that allows you to set the tool at 220°C. Styling at this temperature will help to tame thick hair and get a sleek look in one pass, rather than having to go over the hair over and over again to get it straight and sleek. Flat irons with ceramic plates will help to promote smoothness and shine and are a great choice for thicker hair. For very thick hair, you're better off choosing a flat iron with wide plates. The wider the plates on your iron, the less time it can take to straighten very thick hair.
Curling iron:
For thicker hair, choose a curling iron that's tapered at the tip to help mimic the shape of natural curls and add lift at your crown. Hold the curling wand with the tip facing down to get a natural look. Once again, it's important to find a curling iron that can get up to the high temperatures that you need. Opt for a curling wand that allows you to style at 220°C.
PriceCheck Picks: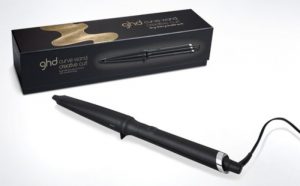 Best flat iron for medium to thick hair: Cloud 9 wide style flat iron.
Best curling wand for medium to thick hair: ghd Curve Creative Curl Wand.
TEXTURED HAIR
Flat iron:
While you may be tempted to buy a flat iron with a wider plate for textured hair, it's best to opt for a narrow iron that allows you to get in close to your scalp. A styling tool with tourmaline in the plates will help to get a sleek finish. Use it at the highest temperature for a polished finish. When straightening textured hair, work in small, 1,5cm sections that are no wider than the iron's plates.
Curling iron:
Whether you're looking to create curls or define the ones you were born with, a curling wand with ceramic plates will help to give you a more natural look while taming frizz at the same time. For best results, look for a curling wand that has a cone-shape.
PriceCheck Picks: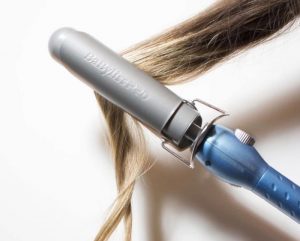 Best flat iron for medium to thick hair: Paul Mitchell Pro Tools Express Ion Smooth+ Flat Iron.
Best curling wand for medium to thick hair: BaBylissPRO Nano Titanium Conicurl Iron.
Find the best hair styling tools for your budget on PriceCheck now. Offering a wide variety of flat irons, curling wands and other hair styling essentials from a multitude of online stores, PriceCheck takes the chore out of shopping around.