Zen: finding a balance between your body and mind. It's a fascinating concept, and Asus has managed to integrate this into the technological world, giving you the ZenBook; a powerful, exceptional machine that will give you an experience like no other.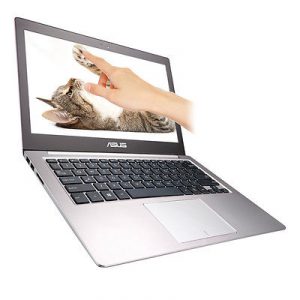 It's difficult to find any concerning issues with the ZenBook – it really does have it all; the Core i7 processor gives it unrivaled performance. The QHD+ display is a marvel and when you combine that with speed, sophisticated graphics and audio from one of the top players in the game, Bang and Olufsen, you have a package that will cater to your every need – the impressive storage capacity and 8 GB of memory doesn't hurt either!
This is a masterpiece and even though it is quite heavy on the pocket, it's worth it – consider it a technological investment. With this laptop, you will definitely find your Zen!
Key specs
Manufacturer: Asus
Processor manufacturer: Intel
Processor type: Core i7 SkyLake Dual Core-i7
Processor model: 6500U
Screen size: 13.3" Capacitive Touch Screen
Display: QHD+ (3200 X 1800) Glossy type LED backlit display
Graphics: nVidia Geoforce 940M with 2 GB dedicated graphics
Audio: Bang and Olufsen ICEpower
Networking: 802. 11ac Wireless LAN Bluetooth; Webcam
3 X USB 3.0 ports
Memory: 8 GB DDR3L (Supports up to 12 GB Max Memory)
Processor speed: 2.5 GHz with Turbo Boost up to 3.1 GHz
OS: Microsoft Windows 10 professional 64 bit
Storage: 1TB 5400 rpm
Battery: 3 Cell
Weight: 1.5kg
Pros: Touch screen; QHD+ display; Bang and Olufsen speakers; incredible graphics; powerful processor; aluminum body; lightweight; exceptional performance; stunning design
Cons: Expensive
Verdict: 9/10
Asus ZenBook UX303UB available from R21,281