Asus' latest tablet/notebook entry, the Vivobook 13 Slate, is something of a leap forward for the Frankenstein-esque nature of mobile devices which teeter the line between a daily laptop and something for more casual use.
While many of these hybrid devices seem to underwhelm as a notebook or a tablet, being somewhat underpowered or lacking the necessary functionality or portability of a pick-up-and-play tablet, the Vivobook 13 Slate doesn't disappoint in the specs department.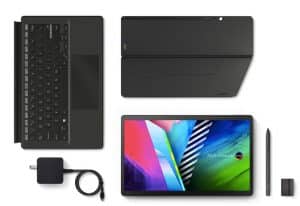 This particular model (the T3300) features a 13.3-inch OLED display, an Intel Pentium Silver N6000 processor, 8GBs of RAM, and Windows 11 Home. But, while its specs under the hood are impressive for its class, the 2-in-1 functionality and adaptability of the Slate is what makes it unique. The fact that the device has a fully detachable keyboard (easily detached via a magnetic connector) allows you to use the Vivobook 13 Slate for whatever task you desire. Using it as a notebook is easy and feels like any modern notebook, which has enough power to do any day-to-day work tasks or multitasking operations, Similarly, popping the keyboard off when you want to engage in some media-viewing or using it with the smart pen (packaged with the device) is just a click away.
PriceCheck tip: Pairing a new notebook with an Android-compatible smartphone will only make the functionality and flexibility of both devices even greater. You can shop for the best smartphone deals on PriceCheck.co.za!
Speaking of, the Asus Pen 2.0 comes with four interchangeable pen tips — 2H, H, HB, and B — with different frictional properties and hardness to suit any drawing or writing style, which is a nice touch.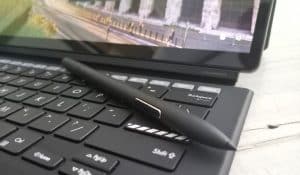 The display of the Vivobook 13 Slate is admittedly gorgeous, with bright and vivid colours being displayed even in bright environments, and you do feel like you're getting a premium viewing or working experience with the OLED screen.
In practice, the Vivobook 13 Slate feels like the next logical step in everyone's go-to computer, whether it be for work or play. The device is ideal for anyone who regularly works from coffee shops, doesn't need an excess of power, and who would benefit from the smart pen and tablet functionality (think an architect or designer).
Priced from R9,999, there are a lot of options in that price-range, but none of which will provide you with the bells, whistles, and tricks that the Vivobook 13 Slate does. Shopping for the best price on notebooks and laptops can be a mammoth task, but if you're in the market for something different and flexible, then it's a solid option.