Most avid runners replace their running shoes once every year, depending on how many kilometres they've racked up on the road. While it's important to ensure your running shoes are always in tip top shape, tossing out a pair of used running shoes year on year isn't exactly environmentally friendly. Luckily, brands like Adidas seem to be latching onto the idea of more sustainable products that don't compromise on style or performance. Exhibit A: the new Adidas Futurecraft Loop running shoes, Adidas' first recyclable running shoe.
A previous iteration of the Futurecraft utilised a 3D printing-like process for its manufacturing, but this new version out of the shoe is made from 100% reusable TPU plastic, which is then fused onto the famed BOOST midsoles.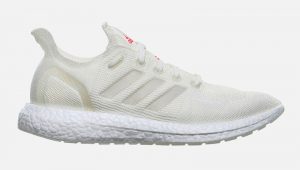 Made to be remade, at the end of their life cycle, the shoes can be washed and mashed into pellets and melted into ingredients for yet another pair of shoes – decreasing the amount of synthetic waste tossed into landfills every year. Aimed at tackling the problem of plastic waste, enabling a "closed loop" or circular manufacturing model, where the raw materials can be repurposed again and again, not just into a water bottle or a tote, but into another pair of high-performance running shoes, the Futurecraft.Loop project is a step in the right direction for sustainability in the fitness sector.
For now, the Loop runners may be quite difficult to come by, with only 200 pairs available for a few lucky beta testers. But, Adidas will challenge these lucky few to run, return the shoes, and share feedback on their experience, ahead of the second-gen drop which will be available to a wider base of consumers.
Itching for new running shoes? Shop a wide range of Adidas running shoes online via PriceCheck.


Want more fitness-related reads? Read all about Puma's Hybrid Rocket Runners!