Times are changing. Your marathons for the year have been cancelled, your cycling group is in lockdown, schools are closed and you now have a classroom in your lounge. But, even with all the changes, you can still rest easy knowing that you and the family can still get out during the day for much-needed exercise. Your daily exercise outing is a great excuse to spend some quality time together as a family to get some fresh air and reconnect away from the stresses of lockdown at home. Not sure which activities are best suited for you and your family? Here are 5 ways to enjoy the outdoors and get in some exercise with your little ones in tow.
Running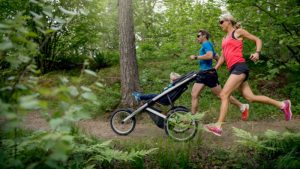 Just because you have very small children doesn't mean you have to miss out on your run. Running with a stroller isn't as difficult as you may think. So don't feel concerned that this is going to slow you down. Having the right stroller will make running with your baby or toddler a lot easier. If you intend to run with your child often it's important to do your research and find the best baby pram for running.
For an easier running experience, opt for a 3-wheeler stroller when running with your child. The unique design of these strollers means it includes suspension for comfort and control. 3-wheeler prams are also easier to manoeuvre with various intelligent features, designed specifically for active parents. For example, a pram like the Thule Urban Glide 2 three-wheel stroller is lightweight, includes large 16" wheels, suspension for comfort and control, and a swivel front wheel for strolling and manoeuvring around town. It quickly and easily locks in place for jogging or rougher terrain.
To ensure your stroller is ready for a run, ensure that wheels are pumped and hard before heading off. You can also inject the tires with a no-puncture slime to avoid any punctures on your run. If your stroller has the option to fix the front wheel then ensure it's in the fixed position when jogging. For additional safety when running on hilly terrain, use a wrist strap to tether yourself to the strollers handle.
Find the best prices on baby strollers online with PriceCheck:


Cycling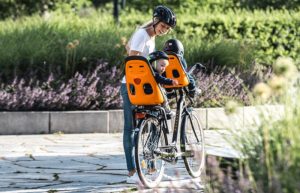 If you prefer to let the wheels do the work for you, a relaxed cycle with your children is a great way to spend an hour or two. Older children can ride along on their own bikes while smaller children will need a child bike seat. A good quality children's bike seat will enable you and your little one to enjoy everyday bike rides, safely, easily and in style.
It's important to ensure you have the correct bike for carrying passengers and the correct bike seat for children. You'll need to determine if a front or rear bike seat suits your needs better. Before heading out on a long bike ride with your child, have a few practice runs to ensure you comfortable and confident riding with the extra weight. Always read the manufacturers instructions for fitting and using your bike seat. Before you head out, make sure your little one is wearing a helmet that fits correctly and your child is properly strapped into the seat. Check that there are no loose straps, scarves or toys that will interfere with the mechanisms of your bike.
Find the best prices on child bike seats online with PriceCheck:


Walking
For families who prefer to walk or hike, there are loads of places to explore the great outdoors in South Africa. You could try starting with a few walks around your neighbourhood or venture out into the bush or mountains for a hike. Just because you have small children doesn't mean you can't enjoy a hike as a family. A child carrier backpack is the perfect solution for parents who love to walk and want to bring their little ones along for the experience.
Choose a carrier that's comfortable for both you and your little one. There are a few things to consider before making a purchase and it's important to do your research and find a carrier that is safe and suits your needs. Opt for a carrier with an adjustable back panel and hipbelt, to ensure a perfect fit and comfortable carry. You'll also want a carrier that can make the transition between parents quick and easy. For maximum comfort for your child, look for a carrier that has stirrups so your child's legs can rest during the walk. It will also make it easier for them to readjust themselves. A breathable back panel will also provide padding and support for you, while allowing air to circulate around your back, keeping you cool.
Find the best prices on baby hiking carriers and backpacks online with PriceCheck: