With the Covid-19 pandemic spreading across the globe the traditional work model of commuting to a centralised office has come to an abrupt halt. In its place, remote work has become a welcomed solution for firms whose employees are able to carry out their daily work without having to step foot in the office. For many of us who are able to work from home, making the transition to working remotely has come with its own set of advantages and challenges.
A shift towards remote work
Working remotely is becoming increasingly common and predictions indicate that it will continue to a popular option even when Covid-19 regulations lift. New research from Gartner research predicts that only 25 percent of meetings will take place in-person or face-to-face by 2024, and with many large companies such as Dell and Mondelēz International already offering a work from home policy, we're likely to see a significant shift to remote work in the post-coronavirus office landscape.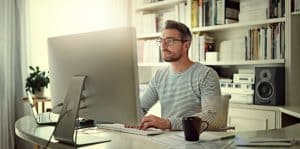 It also offers various benefits. In a study at China's largest travel agency, Stanford professor Nicholas Bloom found there was a 13 percent increase in productivity of call-centre staff when they shifted to working from home, while another study found that remote workers worked an average of 1.4 more days each month than those based in an office. It's also known to offer greater flexibility.
But even as it becomes the new norm and we experience its benefits, working from home can take some getting used to. Here are our top 5 tips to help make adapting to a new way of working easier for you:
Set up a proper office space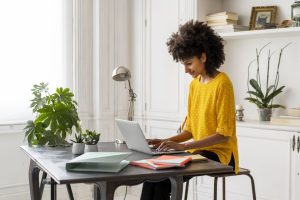 Having a dedicated workspace is important. Combining your work and living space can make it difficult to separate your work and home life at the end of the day. Setting up your own office helps with this. If possible, set up a proper desk with good lighting and all the electronic essentials you need so you have an official working space that is just like an office, or pretty close.
While it may be tempting to work from bed, avoid this. You don't want to risk getting too comfortable and losing concentration.
Find the best prices on electronic and computer essentials for your home office online with PriceCheck:


Have a structured approach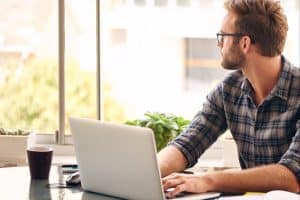 Have a structured approach to your workday and try to stick to your routine. Because the lines between work and home blur so easily, there is the very real risk of not being able to switch off and step away from your desk. This makes it critical to stick to your normal daily and weekly schedule as much as possible: prep your week-day lunches the night before, for example, and take a proper lunch break. Sticking to your normal work-day routine will help you make the switch from working to home life at the end of the day.
Keep connected with your team
Staying connected and communicating regularly is absolutely essential. Try to have regular meetings with management teams or your direct manager to ensure everyone is in the loop. Staying in touch and connecting through instant messaging (IM), emails and calls are vital when working remotely or from home, and in fact, you should be amplifying communications when you work remotely so your team and people you are working with know exactly what is going on.
Find ways to inspire yourself and boost productivity
This could mean going outside with your laptop to work for 15 minutes, or taking a break and stepping away from your computer to refresh and recharge. Studies have found that productivity rises when working from home, but it's important to find what works for you. Cebile Xulu, People Lead: Sub Sahara Africa, Mondelēz International, advises keeping clear daily goals and tasks top of mind. "I find having a clear to-do list and stakeholder map to prioritise what is most important helps me stay on track with deliverables, and boosts my productivity. Working from home requires making that extra effort because there is no face-to-face interaction.
Take the time to continue learning and developing
Working from home offers a unique opportunity to focus on and refresh your personal and professional learning and development. Many companies, like Mondelēz International, also offer learning plans that facilitate remote learning, so taking the time to do it when you have the flexibility of working from home is an advantage.
Stay home and avoid the shops. Find everything you need to set up your home office online with PriceCheck now: