With South Africa's Alert Level 3 regulations being relaxed and many more airports opening from 01 July for local travel, many are heralding this as the return of business travel. For many business people travel is an essential part of their job, but before you start packing your bags, there's much to consider about travelling safely during these difficult times.
We've all heard the old 'recycled air' worry when it comes to travelling on an aircraft. Even pre-pandemic, travellers were concerned about coming down with colds and flu after a plane trip. However, many medical and travel experts agree that the risk of contracting Covid-19 on an aircraft is much lower than in other confined spaces and public transport. In fact, all modern aircraft are fitted with high-level HEPA filters that eliminate all viruses, including the coronavirus. According to FlySafair, HEPA filters successfully remove 99.999% of even the smallest viruses, including those measuring just 0.01 micrometres. The coronavirus family measures between 0.08 and 0.16 micrometres and therefore extracted by the HEPA filters very effectively.
But, even with the risk being relatively low while on an aircraft, it's still important to take extra precautions when moving through airports and interacting with fellow passengers and airline crew. Here are 5 essential tips to help you keep you healthy and safe when travelling for business during advanced level 3 lockdown.
Invest in the right PPE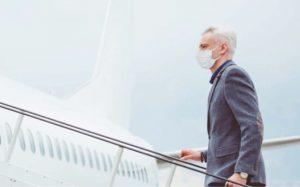 After being told to 'stay home and stay safe' for the last few months, it can feel quite daunting to get onto an aeroplane. But, you can rest assured, stringent safety measures have been put in place at all the airports that are operational to mitigate any health risks, including only allowing air ticket holders into the terminal buildings (drop off and pick up only permitted outside); health screening (including temperature checks) on entry; strict social distancing measures (including self-scanning of boarding passes); and deep-cleaning and frequent sanitisation of terminal buildings and aircraft.
To further protect yourself and others while travelling, make sure you adhere to the protocols and measures put in place and invest in the correct PPE (Personal Protection Equipment). This includes wearing a mask for the duration of your journey and using an alcohol-based hand sanitiser. Always keep a travel-sized bottle on you while you travel.
Find the best prices on personal protection equipment and Covid-19 essentials online with PriceCheck:


Follow mask protocol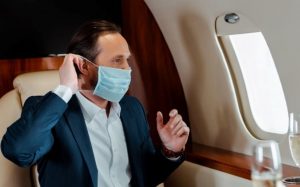 Even with the HEPA filters on-board, you will need to ensure you wear a mask for the entire trip. Unfortunately, HEPA filters don't negate the need for a mask. Think of it as just another layer of protection – both for you and others.
Understandably, many travellers still baulk at the idea of wearing a mask for any length of time. But as the weeks have gone by, masks have evolved and you can now get your hands on masks, which are designed to assist airflow, prevent fogging of glasses and sit comfortably on your face.
Find the best prices on masks and Covid-19 essentials online with PriceCheck:


Have the right documentation required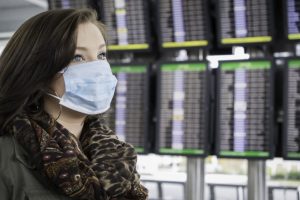 With all the new regulations, business travellers can expect a little more admin in terms of the documentation required. Passengers must have the correct travel documents with them before leaving home, this includes your ID and a permit to travel for business. If you're concerned about having all the right documents, then a professional travel consultant or travel management company will be able to help you navigate the new regulations with ease.
Permits and permissions are necessary, at least for the foreseeable future, so it's a good idea to consult a travel expert who can help and advise you on the documentation that is required, the different airline regulations and requirements as well as the safety guidelines put in place by hotels and other accommodation establishments.
Don't forget your usual travel essentials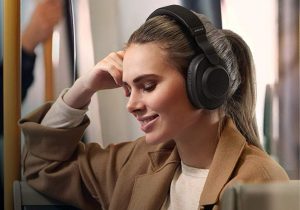 While travelling for business during this time requires you to remember a lot of extra documents and safety items, it's also important not to forget your usual travel essentials for a more comfortable, stress-free trip. Make sure you have the right luggage and other comforts for your trip including items like a travel wallet to keep all your documents, noise cancelling headphones to drown out distractions, and a powerbank to keep your gadgets charged while you're on the go.
Find the best prices on travel essentials online with PriceCheck:


Ease anxiety by planning ahead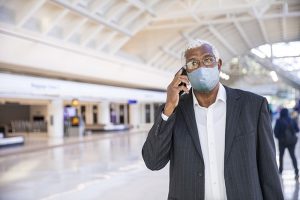 If you're nervous about travelling, ease anxiety by planning ahead. The last thing you want is to be in a rush at the airport during this time. Make sure you confirm your flight details in advance, check-in online and print your boarding pass before arriving at the airport. Make sure you arrive at the airport early as you'll need to allow for a couple of hours for security and health checks. Most importantly, don't stress! If you follow the health and safety guidelines in place, you'll be all set for a safe and successful trip.