We're well into summer and most of us have done the mandatory wardrobe reshuffle, swapping heavy knits and tracksuits for breezy summer garments. The only thing is, these items — often in delicate fabrics like linen, cotton or viscose — tend not to have the longest shelf life. And, doesn't it hurt every time you have to say goodbye to your best shirt because of cotton fatigue or fabric damage? Some items can cost quite a bit, so it makes sense to keep favourites or investment pieces for as many seasons as possible. With these simple tips, you can improve even the most delicate wardrobe's longevity.
Sort stains immediately
Sometimes, stains are unavoidable. That pasta sauce is bound to find a spot on your white pants. Wearing sandals in the rain? Be prepared for muddy specks on the back of your skirt or trousers. Then there's whatever lands up on kids' clothes. To rescue stained garments, so you can wear them for years to come, the trick is to inspect and treat stains as soon as possible. If you catch it early enough, a simple rinse with cold water should help. At a restaurant, try sprinkling salt over a stain and dabbing with a bit of soda water. It's a great short-term solution. The longer you leave a stain, the more work it'll be to get out. And you want to avoid breaking down fibers and damaging fabrics with vigorous scrubbing.
When it comes to keeping your white items super white, you may need a little extra help in the form of a product like Dr. Beckmann Glowhite. This fabric whitener restores and retains the whiteness of your fabrics from the first wash. Working at temperatures as low as 20ºC, Dr. Beckmann Glowhite's intensive formula maintains long-lasting brilliance and prevents greying and yellowing. In just one wash give
your laundry luminosity again! There is no need to replace your washed-out white garments, simply pop a brightening sachet into the back
of the machine drum on top of the laundry load.
Find the best prices on stain removers and laundry essentials online with PriceCheck now:


Be smart about separating laundry
We know about separating dark colours from light, towels from delicate, but what about looking at the actual structure of the item? Do you want your pale lacy shirt in the same load as a white zip-up jacket? Probably not. When you're sorting loads, look at things like buttons, zips and studs that could potentially hook and snag other items in the drum. To be on the safe side, always button, zip and close garments — from jeans to cardigans — before they go in the wash. This helps protect other pieces in the same load.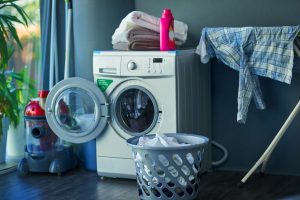 Invest in an appliance that makes life easier
How often do we really pay attention to care labels? While trusting those laundry instincts might have worked for many years, selecting the wrong cycle and heat settings could be seriously reducing the life span of your clothing.
Some modern washing machines use AI DD technology to detect the weight and fabric softness of garments, then determine the optimal washing pattern accordingly. These features will undoubtedly take the hassle out of laundry day, and keep your clothes in pristine condition.
Find the best prices on washing machines online with PriceCheck now:


Lighten up on washing powder and fabric softener
It might seem contrary, but more washing powder doesn't necessarily mean a better clean. Additional detergent can settle back on garments, leaving them feeling stiff and gritty. The same can be said for loading up on fabric softener. For best results, and to keep your clothes looking better for longer, stick to guidelines and instructions.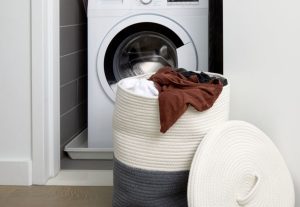 Be kind to clothes in the cupboard
The way we store our clothes makes a substantial difference as to how long they last. In the interests of wardrobe longevity, invest in good hangers with rounded edges, so your garments don't develop pointed shoulders. If you can find hangers with clips or pegs for skirts and summer pants, so much the better. Remember, knit fabrics — even dresses and shirts — tend to be heavy, so fold these items to prevent them from stretching. Then, zip, button and close any garments before they go in the cupboard to prevent potential hooks on other pieces.
Hopefully, these simple tips have sparked some ideas about how to keep your clothing looking great for longer. Here's to making the most of our beloved summer clothes — this season and for many more to come!
Find the best prices on storage and organisation goodies online with PriceCheck now: