Small homes are becoming a big trend in South Africa. Whether it's for financial reasons, an empty nest, or a desire for a lower maintenance lifestyle, many people are downsizing to smaller living spaces. Whilst downsizing does have advantages, like a more simplified life, moving to a smaller home is anything but simple with storage being one of the biggest headaches. However, with a little planning and out-the-box thinking, it's very possible to create a comfortable home and keep your most prized – and necessary – items handy without tripping over them at every turn. To help you make the most of every nook and cranny, here are 5 creative storage ideas for small spaces.
1. Maximise existing closet space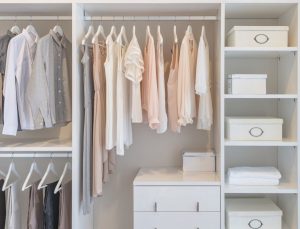 To help maximise existing closet space in a cupboard with a high hanging rail try adding a small chest of drawers underneath the hanging clothes or, add a second hanging rail to double up on hanging space. Door racks and hooks on the inside of closet doors are great for accessories like scarves and belts while a few adhesive hooks hidden on the wall behind the hanging space are perfect for belts, scarves and bags that are used less often.
2. Optimise wall space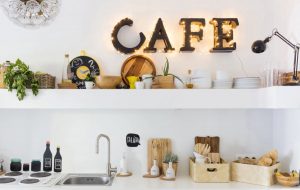 Optimise wall space by installing shelves along the perimeter of your bedroom or kitchen walls above head height. This is usually the least-used space in a room and will add a good couple of metres of storage space. For increased floor space, install a square floating shelf nightstand, With this trick, you will have two surfaces on which to place things and you can store other goods in attractive baskets or boxes with lids on the floor underneath. Floating shelves also work especially well in corners in living areas where they will not be in the way or in small rooms like the bathroom above the toilet cistern.
3. Take Advantage of Vertical Space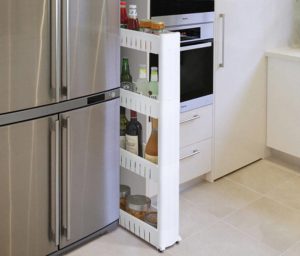 Try to take advantage of vertical space as much as possible. Think thin and tall when buying shelving. Invest in shelving units that tall and narrow rather than short and wide, which will also add visual variation and interest. Slim rolling shelves on wheels are perfect for that space on the side of your refrigerator, or between your dishwasher and the wall.
4. Put your doors to work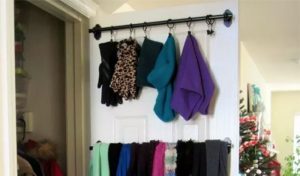 Use your doors for extra storage space. In the kitchen, fill a plastic multi-pocket shoe organiser with the cleaning supplies that are cluttering up your kitchen sink and counters and hang it behind the kitchen door. Install a floating box shelf above a bedroom or bathroom door – handy to store rolled up fresh towels and bathroom toiletries you don't often use or extra jerseys and books. Build deep shelves in the wasted space around a doorway – if the door position allows for it, it's a great way to add a lot of shelf space for books, knick-knacks and even small plants.
5. Decorative storage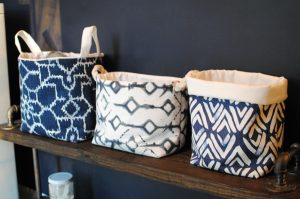 Use decorative storage wherever possible. Bookshelves aren't just for books, they are also perfect for storing attractive baskets filled with things like office supplies, spare toiletries, stationery etc. Storing belongings in decorative bins and baskets is one of the most affordable and most aesthetically pleasing ways to save space as they can be placed almost anywhere, including entryways, kitchens, closets, bedrooms, bathrooms and pantries.
Find the best prices on storage solutions online with PriceCheck: