The most important part of any makeup look is your foundation. Having a natural-looking base is the best starting point to any makeup look, but yet so many of us fall into bad habits that could ultimately put all our hard work to waste. Whether it's picking the incorrect shade or forgetting to blend, here are 5 of the most common mistakes women make when applying foundation to the skin… and now to fix them, of course!
Choosing the incorrect shade
Many women struggle with choosing the right foundation shade. It's important to make sure your base is the perfect match for your skin tone since the wrong foundation shade can completely ruin your makeup look. Many women fall into the trap of choosing a shade that is too 'orange' for their complexion or a shade that makes their complexion look grey or dull. To find the correct foundation for you, try your best to test the shade in natural daylight. Ask for a sample of 2 or 3 different shades and then swatch the shades from the top of your cheek to your jawline to ensure it's the perfect tone throughout the face.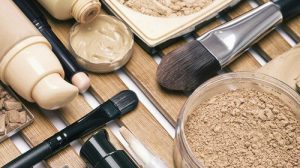 Applying too much foundation
Most women think that they need to apply foundation over the entire face, but this isn't always the case. Many makeup artists advise that you only apply foundation to the areas where it's needed. Foundation should be applied directly to areas of concern, such as redness, shadows, blemishes, and be used to even out the skin tone. Once you've applied foundation to those areas it can then be blended out across the good skin.
Forgetting to apply primer before your base
Another important step to ensuring your makeup lasts all day and stays looking fresh is to apply primer before starting on the foundation. The primer acts as a barrier between the skin and makeup, helping to combat pitfalls from dry or oily skin. If you've got oily skin, a primer will help stop oil from seeping through your foundation, causing it to slide off. If you've got dry skin, your skin could lap up all the foundation in the driest areas, leaving your foundation looking patchy or uneven.
4. Applying concealer under your foundation
Rather than piling up foundation and concealer under the eyes, which can look cakey and draw attention to fine lines, save the concealer for touch-ups after you've applied foundation. If you apply concealer first you will only remove the concealer when you apply foundation over it. Think of foundation all-over airbrushed retouch or enhancement and concealer as a way to pinpoint particular concerns on the skin. If you apply your foundation first, chances are your base will have already masked any under eye shadows and skin flaws, reducing the amount of foundation you need.
5. Not setting your makeup properly
In addition to a primer, taking the time to set your makeup after applying it is another way to ensure your look stays fresh all day. Use a powder puff or press a loose powder into the skin to set your look, making sure to pay careful attention to areas that need it most like the T-zone.
Shop for a wide range of makeup and beauty must-haves online with PriceCheck now: