Is there anything more frustrating than pulling your favourite jeans out of the washing machine, only to realise they've shrunk? Or seeing your beautiful new lingerie in shreds? While we all wish doing the laundry was a simple as tossing in a load and letting the machine do its thing, there are a few basic laundry rules you have to follow to ensure your clothes not only come out clean, but also in one piece. To ensure your clothes stand the test of time, try these smart laundry hacks and you'll avoid any nasty washing-machine surprises.
Gently does it
Always put delicate items like bras, swimwear, stockings or anything lacy or silky into laundry wash bags to help extend their lifespan. These bags were made especially for delicates, protecting them during the spinning cycle while ensuring they come out clean, thanks to their mesh or net make-up. You can substitute laundry bags for small pillowcases – just be sure to fold them closed or sew on a zipper so your items stay inside.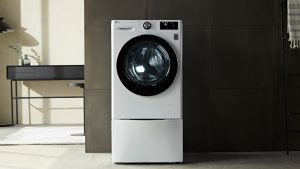 A good sort
A common rookie error is forgetting to sort your whites from your darks and colours before throwing everything into the machine. No one wants their favourite white t-shirt to turn a strange shade of pink. It's also a good idea to sort fabric types if you can – a silk blouse shouldn't get chucked in with a leather jacket with jagged metal zips.
If you're in the market for a new washing machine, consider buying a machine with built-in AI technology. Machines like the new LG ThinQ AI DD washing machine not only detect the weight of each laundry load but also use Artificial Intelligence (AI) and advanced sensors to identify various fabric types, customising the wash cycle accordingly. These state-of-the-art machines do all the thinking for you, and helps to improve the cleaning and longevity of all fabric types, even your most precious garments. You can easily put in a mixed load of laundry and LG's washing machine will figure out the rest.
Find the best prices on washing machines online with PriceCheck now: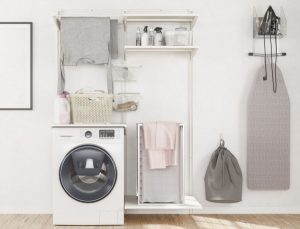 Upside down and inside out
This one's for all the denim lovers out there – the best way to prevent dark garments from fading is by washing them inside out. Turning your jeans inside out and washing them on a cold cycle will extend their life tenfold. It's also a good idea to keep in mind that, according to the experts at Levi's, you should only wash your jeans after every 10 wears.
Are you a fan of graphic tees? Preserve the prints on your beloved band t-shirts by washing them inside out too. You'll notice far less logo cracking and colour fading if you change the way you clean them.
When in doubt, a good rule of thumb is to always read care labels before washing. Their purpose is to help guide your laundry decisions by letting you know what is best for each garment. Think before you wash and your clothes will provide you with years of enjoyment.
Find the best prices on laundry and household essentials online with PriceCheck now: