Just when we thought the welcome break from load shedding was here to stay, the dreaded regular blackouts returned. With load-shedding here to stay for the foreseeable future, there is no better time than now to become more energy conscious and put solutions in place. If you're looking for the perfect solution why not take matters into your own hands by exploring energy-efficient solutions such as solar?
Solar is becoming more accessible and could alleviate a lot of the stress associated with load shedding. Not only is load shedding negatively affecting South Africans across the country, but the rising cost of electricity is also a major factor that will have a longer-term impact. Solar energy is an ideal solution when it comes to saving on electricity costs, because not only do most areas in the country have an average of more than 2,500 hours of sunshine per year, but there are now many innovative solar options on the market that are geared to make life with load shedding easier.
Here are four ways to started on a solar-driven, more energy-efficient lifestyle:
1. Keep the lights on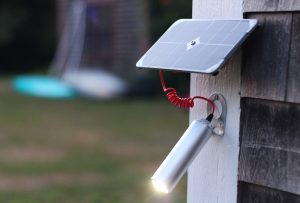 Also read: Top 5 Load-Shedding Solutions That Won't Break The Bank
Investing in a couple of good solar lights is the most energy-efficient way to ensure you have light when load shedding strikes after dark. So, which ones do you choose? Well, luckily enough you're spoilt for choice with a variety of indoor and outdoor options.
Portable solar lamps and lanterns (with their own solar panels) are ideal for use inside the home. Just keep in mind that these must be charged outside during the day and then brought inside at night to be used wherever you need them. When it comes to your garden or patio, a flood or wall light is your best option. These, however, must be placed in a sunny position to ensure that the solar panel soaks up as much light as possible during the day.
2. Forget cold showers
Solar geysers have been around for years already, but adoption has been low due to the high operating costs. However, with another 15% electricity hike on the way, this energy-efficient solution is starting to look comparatively more affordable. If your monthly electricity bill comes in at around R2,000, you could save up to R600 per month by using a solar-powered geyser.
3. Say yes to a Solar Hybrid fridge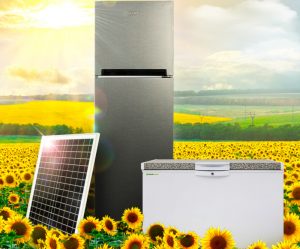 Brands like Defy have also made it that much easier to be energy efficient while keeping your food cold and fresh and reducing spoilage. The Defy Solar Hybrid range, including refrigerator and chest freezer can help to reduce your monthly electricity bill by up to 44%. Despite being solar-powered, the Solar Hybrid range operates a little differently from other solar appliances on the market – they run directly off solar panels during the day when the sun is out and revert to the electrical grid at night when it is dark. You can also rest assured that you're covered during load shedding (even at night) because the Solar Hybrid range keeps food frozen at optimal levels for up to 40 hours when there is no power, thanks to its endura-chill technology.
4. Stay connected
Nothing is more frustrating in the digital age than having your phone die and not being able to charge it. One way to do keep your phone juiced up during load shedding is with a solar phone charger. It can be used on the dashboard of your car, on a windowsill or anywhere there is sunlight. Make sure the battery is fully charged before nightfall, especially if your load shedding slot is after dark and you'll be ready to charge your phone in a bind.
Find the best price on solar energy sources online with PriceCheck now: