It might not seem like it, but your bedroom is one of the rooms you spend the most amount of time in every day. Whether you're relaxing, getting ready for the day, or sleeping, your bedroom is a sanctuary away from the business of everyday life. When decorating your bedroom, lighting is key to helping you make the most of this much-loved space. Good lighting will help you transform your room into an inviting place to unwind in the evenings as well as a place that is conducive to falling into a deep slumber at night.
But, getting the lighting right in your bedroom can be a challenge. To help you tackle the task, here are 5 lighting tips for a cosy, functional bedroom.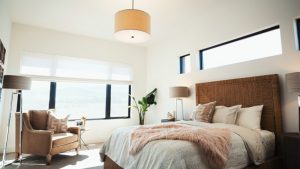 Find the perfect lighting for each task:
You need to find the perfect balance between ambient, task and accent lighting so that you can create various moods to suit the different times of the day.
Ambient lighting provides the room's general lighting, you're best off using mounted ceiling lights, chandeliers, or downlighters for this. Task lighting provides targeted illumination for specific tasks, such as reading or doing your makeup for example. Table, desk and floor lamps, as well as wall lights, are great options for task lighting. Accent lighting draws your attention to a particular feature, be it artwork, an architectural element or an antique piece for example. If you have a feature you would like to highlight think about using picture lights, wall lights, spot lights and tilted downlighters to accentuate a stunning feature of the room.
You can, of course, layer all three of these types of lighting options to create a truly cosy atmosphere in your bedroom.
Install dimmers:
For a truly cosy feeling, look at installing lighting dimmers in your bedroom. Dimmers are an incredibly important tool for layered lighting design, but they are arguably one of the most under-appreciated as well. They allow you to add an extra dimension to the room's environment, and have the ability to make your existing lights multifunctional, moving between low lighting, to full brightness, and accommodating multiple lighting needs in the process.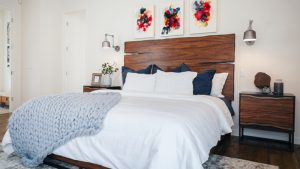 Plan your lighting design:
The trick to getting a lighting design just right, is planning. Take the time to measure the room out and then plan where the best place to put the lights will be. For example, if you want to highlight a specific artwork, then you could install ceiling spots about 0,5m from the wall for a ceiling height of 2,5m, or farther in if the ceiling is taller. If you want to include a pendant or chandelier, then it is usually best either centred in the middle of the room, or above the bed. Unless your bedroom has an unusually high ceiling, it is advisable to hang pendants or chandeliers about 30cm from the ceiling.
Find balance:
It's important to find balance in your lighting choices. Try to include multiple types of fixtures in your lighting design. For example, you can place a floor lamp next to an occasional chair in the corner of the room, include a statement pendant light in the centre, bedside lamps on either side of the bed, a feature table lamp on the dresser, and perhaps one or two wall lights, or two to three downlighters in other unlit areas of the bedroom.
The goal behind this practice is to direct the eye right around the bedroom, instead of it just focusing on the bed. Bringing light to the different corners of the room makes it seem larger than it actually is. To create more visual interest, you can include shades to give the room a warm glow, as well as indirect light, such as wall lights that throw light back onto the wall behind for example.
Find the best prices on home lighting online with PriceCheck now: