For many coffee fans, morning coffee is a must-have that cannot be missed. For some, there is a specific style of coffee that is set aside for the morning, or perhaps they use a technique to ensure that their first morning cuppa packs an extra punch. But often what happens is the same cup every morning can start to lose its effect, and this is when it is time to start looking for exciting new options to make getting out of bed a little easier, especially in winter.
Giving yourself something different to drink in the morning, while still including the all-important ingredient – coffee – can help to start the day off on an exciting note. Whether it's changing the milk to a nut-based milk, or perhaps a flavoured syrup instead of the usual sugar, this can all make a difference, so the first sip of the day can awaken the senses.
PriceCheck tip: If you enjoy milk alternatives, there are even homemade nut-milk makers which will allow you to enjoy homemade dairy-free milk that is free from nasties like preservatives & additives.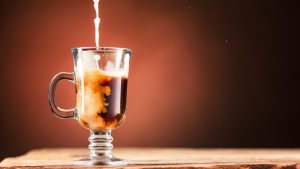 Upgrading your morning cup of coffee, doesn't mean you have to spend a fortune on a coffee machine, invest in a French Press, or even splash out on a coffee capsule machine. A more inexpensive option, like a good instant coffee, can also produce a great cup of coffee, and you can make your instant coffee creation even better with just a few easy tweaks. If you're looking for an easy way to spice up your morning coffee, then check out these  suggestions below:
Spice up your life
The easiest way to upgrade your morning coffee is to turn to spices. Try a sprinkle of cinnamon on top of your latte, or a sprig of nutmeg in your cup. For a real treat, sprinkle Pumpkin pie spice on your latte for the perfect winter morning cuppa.
Sweeten the deal
Sugar is great, but why not elevate the taste of your morning coffee with an alternative sweetener? Switch to honey, maple syrup, or even sweetened condensed milk for a different take on sweetness.
Dare to be different with dairy
Rather than just using milk in your coffee, why not try topping your morning coffee with whipped cream? Or, try a milk alternative like oat milk or almond milk to add a nutty flavour.
If the basics don't cut it, then you can always try one of the below recipes for a truly inspiring morning cup of Joe.
Cinnamon Spice coffee
For this easy recipe, you will need:
Douwe Egberts Espresso Style coffee
1.5 tablespoons cinnamon syrup
Whipped cream
Ground cinnamon
Make yourself a cup of coffee using the Douwe Egberts Espresso Style coffee. Pour the cinnamon syrup into a large mug. Pour the prepared coffee into the mug containing the syrup and give it a stir. Once combined, sprinkle some cinnamon and top with whipped cream. Easy as pie!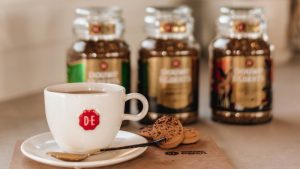 Instant Mocha
For an easy mocha at home, try this quick recipe:
2tsps cocoa powder
1 tsp Douwe Egberts Pure Gold (or Kenya Mocha for an added Mocha taste)
Sugar (according to your personal taste)
Hot milk
Add the cocoa powder, Douwe Egberts Pure Gold coffee, and sugar to a coffee cup. Add a splash of hot milk and stir to form a paste. Once you have a consistent paste, then add the rest of the hot milk. Stir and serve.