Anyone who travels economy class on a regular basis knows all too well the struggles of sleeping on a plane. Unless you have the cash to splash out on a flat-bed business class seat, trying to get a good night's sleep on a plane is a real challenge. Between the cramped seats, limited legroom, and cabin pressure, flights don't offer the ideal environment for a restful sleep, but there are a few ways you can make things a little more comfortable for yourself. These 3 tips will help you sleep a bit better on a long-haul flight so you arrive at your destination bright-eyed and bushy-tailed.
Take a melatonin supplement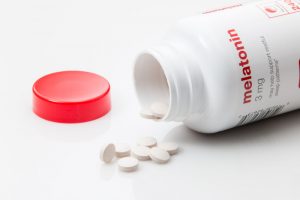 If you're not a fan of sleeping tablets, try taking a more 'natural' sleeping aid such as a melatonin supplement. Melatonin is a hormone that helps regulate our circadian rhythm by working as a darkness signal. It's naturally secreted by the brain's pineal gland and many seasoned travellers use a melatonin supplemental to treat jet lag and help with sleep during a long flight.
To get your brain ready for sleep, take melatonin 20 to 30 minutes before sleep. Once you've taken the supplement, avoid alcohol, sedating medications, and other sedating supplements.
Browse a wide range of melatonin supplements and sleep aids online with PriceCheck now:


Bring earplugs and an eye mask
While many airlines provide earplugs and eye masks for overnight flights, it's always best to bring your own. Invest in a comfortable eye mask to block out any sleep disturbing light on the plane and a pair of silicone earplugs to silence any noise that may disturb your sleep. This will allow you to zone out and enjoy some quality sleep even if you're sitting upright. Noise and light is the main challenge when trying to sleep on planes so reducing the effect of these factors should help you sleep like a baby.
Browse a wide range of sleeping eye masks online with PriceCheck now:


Invest in a good travel pillow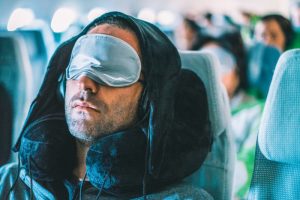 Once again, many airlines will supply a pillow with your seat but these aren't always the best for sleeping. while airline pillows are ideal for lower back support, they're not the best sleep companion. Investing in a good travel pillow can make a world of difference when trying to sleep on a long-haul flight. From memory foam to inflatable pillows, there are a wide range of travel pillows available to suit your sleep style.


If you're getting ready to head off an exciting travel adventure don't forget to stock up on travel essentials to make your time away from home as comfortable as possible. PriceCheck brings together travel accessories from some of South Africa's best online retailers all in one place so you don't have to shop around. Check out the best travel accessories online with PriceCheck now.