Huawei's P series sets the foundation for Huawei as a lifestyle brand. Believing that the smartphone has become an extension of ourselves, Huawei's developed the P series with the aim to provide people with a stylish device that caters to their lifestyle and communicates their personality.
It was in 2016 that Huawei partnered with Leica to equip the P9 series smartphones with a dual-camera co-engineered with Leica. Focused on the vision to offer users an unparalleled smartphone experience, Huawei listened to consumers and created devices with leading trends – in both software and hardware – which received great acclaim globally. Huawei's P9 series, which offers a powerful imagery experience with an impressive dual-camera co-engineered with Leica, is a true manifestation of this success, with more than 12 million units shipped around the world.
Huawei's latest design focused flagship is the P10 and P10 Plus. Both handsets boast the world's first front-facing camera co-engineered with Leica.
By using the world's most advanced photographic technology to create modern artistic portraits in Leica's signature image style, the Huawei P10 and P10 Plus offer stunning features such as studio-like re-lighting and 3D facial detection technology, thus putting all the tools to be become a master in portrait photography. The new front camera helps to produce perfect portrait photography in Leica image style whilst the rear camera captures facial features with incredible detail, bringing photos vividly to life.
Inside the camera, users will find a 12-megapixel RGB sensor, a 20-megapixel monochrome sensor and enhanced fusion algorithms. When paired with the dual camera Optical Image Stabilisation (OIS) solution and the industry's first dual camera pixel binning technology, the Huawei P10 and Huawei P10 Plus offer superior night shot capabilities. Additional studio-level portrait tools and illumination effects were also developed based on extensive research.
To learn more about the Huawei P10 click here and to see the image quality of pictures taken with the P10, click here.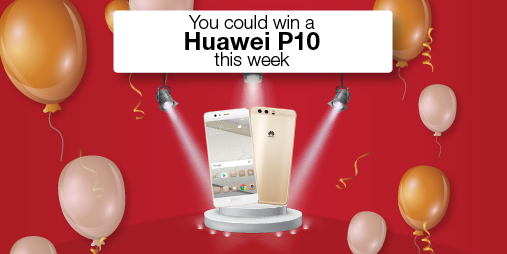 To enter, head over to our Instagram page, like the "Win a Huawei P10" post, tag a friend in the comments section of the post and make sure to follow our Instagram account : https://www.instagram.com/pricecheck_sa/
You can also click on the image above to go directly to the post.