Nothing is more exciting than acquiring a new gadget. But, with some much great techie stuff out there, how do you separate the good from the bad? The great from the mediocre? Luckily we're here to help with a quick guide to our favourite must-have gadgets we tried this month. From revolutionary cameras to robot vacuums, we've highlighted some of the hottest gadgets coming your way, so you can keep these products top of mind when scouring the market for a new device.
FUJIFILM INSTAX MINI EVO
Another instant snapper joins the Fujifilm line-up, and this one is definitely worth some attention. The Instax Mini Evo is a premium hybrid camera, delivering both the ease and convenience of built-in printing, along with the ability to digitally edit photos.
Featuring a 28mm F2.0 lens and 3-inch LCD monitor, users are able to play with a range of versatile shooting effects, including ten lens effects (including Soft Focus and Light Leak) which can be combined with ten film effects (including Vivid, Monochrome or Pale), giving you 100 different shooting options.
Photographers can select the lens effect by twisting the lens dial or using the scroll wheel at the back for film effects. Once the perfect combination is found, the photo can be printed by pulling the print lever at the back, harking back to the film advance lever found on 35mm film cameras. Fujifilm has ensured greater print quality on the Evo, with the resolution of the exposures (638 x 318 dpi) now double compared to previous models; along with the ability to save printed pictures to a smartphone using the companion app and transfer function.
The Fujifilm Instax Mini Evo will launch in SA in 2022, with local pricing to be confirmed.
Find the best price on instant cameras online with PriceCheck now:


ASUS VIVOBOOK M513U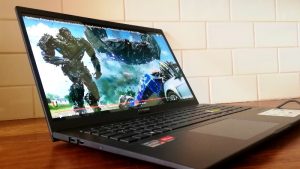 According to Asus its latest VivoBook 15 range is all about "self-expression", and they're spot on! This is one of the more interesting and uniquely-designed notebooks on the market, and has some good specs to back up its striking look. While a small detail, the lumo-highlighted 'Enter' key on the M513U sums up the approach of the design. The aesthetic is fun, bold, and accented with great design choices, making it sleek, slim, and portable like other options on the market, but with enough personality to stand out from the crowd.
The 15-inch OLED display is gorgeous and delivers vividly rich colours when watching movies or browsing the web, along with Harman Kardon-certified audio packing a decent punch for laptop speakers. Additionally, the tightly-packed yet slick keyboard is very easy to slide your fingers across, making it ideal (and quiet) for writing or smashing out emails at home or out and about.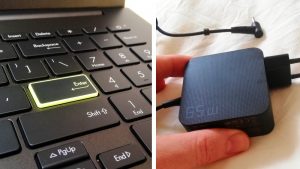 It also features an AMD Ryzen 7 5700U processor, 8GBs of RAM, and (interestingly) a dual-storage design featuring a 512GB SSD and a 1TB HDD, so you get some sizable storage plus impressive load speeds.
One of the smaller but most notable features is the 65W AC Adapter, which is as small and compact as a cellphone charger, leaving you with no cumbersome power brick to squash into your laptop bag.
The VivoBook M513 is a great device that prides itself on its portability and stellar screen quality, so if you're someone who watches a lot of richly coloured content on your laptop and requires something light and compact, you don't get much better than this.
The VivoBook M513U is available in SA at R14,669.
Find the best price on laptops online with PriceCheck now:


OPPO A16S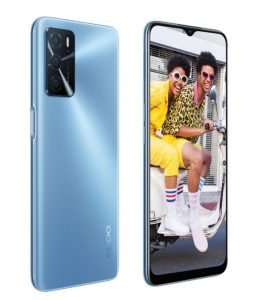 Oppo has hit the South African market running, and the Chinese brand has introduced a mid-range device that has all the bells and whistles you'd expect, along with a very reasonable price tag of just R3,699.
The device is powered by the MediaTek Helio G35 chipset, and features 4GBs RAM and 64GBs of internal storage (MicroSD up to 256GB), and is compatible with ColourOS 11 and Android 11, with access to the Google Play Store for apps.
It features a 6.52-inch display with a 720×1600 resolution, with Oppo's "smart AI Eye-care", which adapts to your lighting environment and remembers your brightness preferences—keeping your eyes comfortable all day long.
The A16 comes fully equipped with a 5000mAh battery that provides up to two days of use within a single charge*,  along with Near Field Communication (NFC) technology to enable contactless payment with just a simple tap of the device.
The Oppo A16s' triple-lens rear camera has an 80-degree wide-angle, autofocus-enabled 13MP Main Camera, a 2MP Depth Camera, and a 2MP Macro Camera. The front camera is 8 MP.
Find the best price on smartphones online with PriceCheck now:


IROBOT ROOMBA I3+ VACUUM CLEANER
It's fair to say people are sceptical of robotic vacuum cleaners. Early iterations of the handy helper have been quite clumsy and clunky. Bumping into furniture, missing most of the mess, and generally running out of battery before they've made their way across the living room, robot cleaners haven't exactly put our human cleaning jobs at risk. However, the Roomba i3+ irons out a lot of the kinks with the technology and delivers something that resolves a few of the shortcomings with other products.
The 13+ is easy to use from the get-go, featuring a large 'clean' button which activates its smart navigation system, allowing it to slink its way around your furniture, ensuring that it covers all the ground it can. Where previous robot vacuum cleaners have struggled is pet hair, but thankfully, the i3+ devoured big and small tufts of pooch hair with no problem. Furthermore, i3+ comes bundled with the charging and cleaning station, where the Roomba will return to when the battery is low, or it needs to empty its catch.
The design is clever, and it really does minimise any human involvement, which is a huge win. There's even a companion app, which you can use to schedule automatic cleaning times and change preferences, such as adding an extra clean during high-pollen periods or pet-shedding season.
The iRobot Roomba i3+ is available for R11,999.
Find the best price on robot vacuum cleaners online with PriceCheck now: