We've all got that never-ending tub of Vaseline hanging around at the bottom of a bathroom drawer. It's one of those products you always need on hand, just in case. The affordable staple has been around for 150 years — and for good reason. The super-useful jelly-like substance was originally used to heal cuts and burns but, these days it's seen as a multi-use wonder with an almost endless amount of uses. We all know that petroleum jelly is ideal for keeping nappy rash at bay and relieving chapped lips and skin, but did you know there are loads more uses for this age-old product? Here are just 5 life-changing beauty uses for Vaseline.
Treat your cuticles
Don't have cuticle oil on hand? Vaseline can help! The jelly is a great cuticle moisturiser, especially in winter when dry, cracked cuticles rear their ugly heads. Just dab a small amount on your cuticles before bed every night and you will always have a healthy nail bed.
Makeup remover
Don't have waterproof makeup remover, just use a dollop of Vaseline. Dip a cotton ball in some Vaseline and gently rub away stubborn makeup (even waterproof makeup!) with the cotton bud. This trick works best for stubborn waterproof mascara that refuses to budge.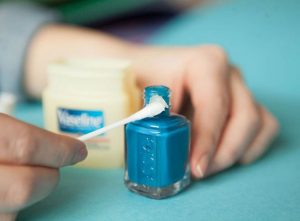 Save your nail polish
Vaseline offers a great solution for one of life's little annoyances. If you're sick and tired of your nail polish lids drying shut on you, then this hack will prove to be a game-changer of note. Just spread Vaseline around the inside of the polish lid for super-easy opening next time you use it.
Get a perfect streak-free tan
For a streak-free tan simply reach for the Vaseline. Rub a little bit of Vaseline onto the driest bits of your body (elbows, knees and wrists). These areas are usually where the active ingredient, DHA, in self-tan typically collects, causing darker patches. The Vaseline will moisturise the skin in the areas and create a barrier to ensure you get an even spray-quality tan.
Save your razor
Haemorrhaging money on razors? Keep your razor like-new for longer by smoothing a very thin layer of Vaseline onto the blades between uses. The Vaseline will protect the blade and ensure it stays sharp and doesn't rust. Just make sure the razor is completely dry first before applying the Vaseline.