iPhone fans will be ecstatic to know that Apple has confirmed that their new iPhone models – namely, the Xs, Xs Max, and Xr – are now available in South Africa.
Other than the display size difference, which will influence people's decisions based on their individual needs, they're effectively the same phones with the following specs and prices:
Super Retina OLED screens, 5.8-inch (Xs), 6.5-inch (Xs Max)
iOS 12
Dual 12 MP main cameras
7 MP FaceID front-facing camera
Apple A12 chipset
64GB/256GB/512GB storage
IP68 water resistance
iPhone Xs pricing:

iPhone Xs 64GB – R21,999
iPhone Xs 256GB – R24,999
iPhone Xs 512GB – R29,999

iPhone Xs Max pricing:

iPhone Xs Max 64GB – R23,999
iPhone Xs Max 256GB – R26,999
iPhone Xs Max 512GB – R31,999
But, when it comes to the tough decision of whether to upgrade to the Xs or not, critics have a mixed-bag of views:
Tech Radar
"The iPhone XS is, obviously, the best that Apple's ever created – that's no surprise, as it's the new flagship iPhone. However, the question is whether Apple has done enough to make this the most attractive to buy, and whether it's enough to stop anyone moving to a competitor. The iPhone XS is good enough in many ways, but it's not much of an upgrade over 2017's X, and doesn't redefine anything the way last year's phone did – the main upgrade is the camera, with Smart HDR making a difference." Read the full review.
Mashable
"If you've got an iPhone X and don't care about a larger screen or better camera performance, you'll survive just fine another year or two with it, especially with iOS 12. If the prices are still a turn-off, consider holding off until the iPhone XR launches in late October; it starts at $749 and has virtually all of the iPhone XS and iPhone XS Max features minus the superior OLED screens and secondary rear camera. Plus it comes in colors like blue, red, yellow, and coral." Read the full review.
NY Times
"I encourage you to try before you buy. It may not hurt to wait for the XR's release next month so you can test all three in a store. Play with the cameras and pay close attention to how each phone feels in one hand and inside your pocket. It's important that you find the right fit: Since you have to pay so much for your next iPhone, you will probably live with it for a long time. And who knows? You might assume you will dislike a bigger screen and then change your mind — just as I did." Read the full review.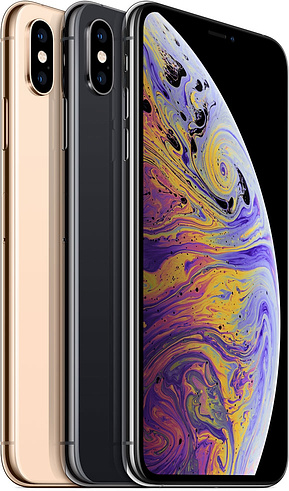 The Telegraph
"I would recommend that most people wait for the cheaper iPhone XR, which comes out next month and on the face of it seems like it delivers more bang for your buck." Read the full review.
Tom's Guide
"If you've been holding off on upgrading your iPhone 7 or iPhone 6s, either one of these handsets will feel like a huge leap forward. The cameras are miles better — especially in low light — and the A12 chip provides a big speed boost. Between the two, I'd opt for the iPhone Xs Max because of its bigger and more immersive 6.5-inch display and longer battery life." Read the full review.
The Verge
"I would not rush out to spend another $999 on the XS if you have an X, but if you're already deep into a pre-order, don't worry: you will love the iPhone XS. It is indeed, more iPhone, and it will probably hold up for years to come. I definitely prefer the Pixel 2's camera, but the iPhone XS isn't that far behind, and it's still a significant improvement over previous iPhones. For everyone else, I think it's worth waiting to see how the iPhone XR turns out before rushing in — it has the same processor and the same main camera for $750. The only major question is how good its 6.1-inch LCD will look in comparison to the the XS's OLED." Read the full review.
After a side by side comparison many journalists seem to agree that while the improvements for the XS and XS Max are impressive, they're not leagues better than the iPhone X which will still be accessible for a short while. Another common perception is that they stack up well compared to the best Android flagships, but individual consumers will have to decide whether or not the price of the iOS devices is justified considering they're on par with Android performance.
If you're looking for a new iPhone, check out the best deals on Apple devices from PriceCheck!


Want More Technology News? Check Out Our Tech Section For More Great Reads!