For gadget lovers, there's nothing more exciting than investing in a new gadget. But with so many nifty tech must-haves on the market, how do you decide which gadgets are worth the splurge? To help you decide where to spend your precious Rands, we've put together a list of 3 gadgets that have impressed us this month. From snap-centric smartphones to retro-inspired cameras, 2022 has already seen some interesting releases in the tech and gadget world.
Huawei MatePad T10s
PriceCheck tip: Having a great pair of Bluetooth headphones can help you enjoy calls and media on your smartphone or tablet, even when on the go.
Whether you're looking to stay entertained with movies and series when travelling or want a larger screen to work from when you're on the go, Huawei's media-focused MatePad T10s is a solid contender for anyone looking to invest in a new tablet device. With an impressive 10.1-inch screen, the MatePad T10s tablet is an ideal travel companion to complete remote work and enjoy entertainment anywhere thanks to its 80.6% screen-to-body ratio and a display ratio of 16:10. Furthermore, it's complemented by a high resolution of 1920 x 1200 and features ClariVu Display Enhancement technology to ensure users can enjoy films and TV without straining their eyes.
The T10s is ultra-thin and lightweight; and is also equipped with a Harman Kardon certified 2.2cc dual-speaker, giving some great sound if you're tired of using headphones. The MatePad T10s comes with ample storage space (64GB) and also has a Micro SD card slot for up to 512GB of expandable storage.
Fujifilm Instax Mini Evo
The Instax Mini Evo is a premium hybrid camera, delivering both the ease and convenience of built-in printing, along with the ability to digitally edit photos. If you're after a great digital camera with printing features, then you've found the one.
Featuring a 28mm F2.0 lens and 3-inch LCD monitor, users are able to play with a range of versatile shooting effects, including ten lens effects (including Soft Focus and Light Leak) which can be combined with ten film effects (including Vivid, Monochrome or Pale), giving you 100 different shooting options.
Photographers can select the lens effect by twisting the lens dial or using the scroll wheel at the back for film effects. Fujifilm has ensured greater print quality on the Evo, with the resolution of the exposures (638 x 318 dpi) now double compared to previous models; along with the ability to save printed pictures to a smartphone using the companion app and transfer function.
Nokia X10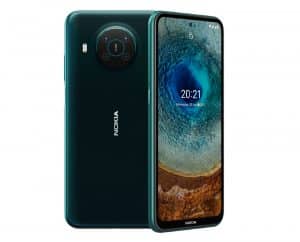 If you're looking to invest in a new mobile phone, then the Nokia X10 is the perfect combination of unique capabilities and practicality, with its 6.7-inch display, and 48 MP quad camera with Zeiss Optics. With 6GBs of RAM, 128GB of internal storage and Qualcomm Snapdragon 480 5G chipset you've got a pretty robust package. The Nokia X10 delivers crisp high-end shots, and has the capability to shoot in RAW format, with an 8 MP front-facing and 48 MP rear-facing camera. Video capabilities include Nokia's 'cinematic' mode, which adds colour-grading to videos. The Nokia X10 is a photo-centric device that works perfectly for work and lifestyle functions and for that at its price-point, it's a great option.
It's a solid device with Nokia's fantastic build-quality that we've come to know. If you're looking for a smartphone that prioritises its camera and cuts out some of the other less-necessary features, you've got yourself a winner with the X10.