For avid readers the appeal of getting an e-reader has become increasingly strong since more players have entered the market beyond Amazon, who pioneered the device with their Kindle. For some the allure of having a physical book far outweighs the benefits of a digital device, but there are a number of huge benefits to having one. For one, e-readers are a big plus for anyone who craves the ability to carry an entire library in their backpack. If you're been mulling over the idea of picking up an e-reader, we're going to look at the things you need to consider before making your choice and of course, we'll also look at a few of the best e-reader options on the market today.
Content 
Just like with streaming services and TV shows; when it comes to e-reader tablets, the content available on a device is a key consideration when choosing which one to buy. The biggest deciding factor is likely to be whether to go with one of Amazon's Kindle devices simply because Amazon has the rights to a slew of content that won't be available on any of the other e-reader types. Although Kindles do come at somewhat of a premium, for the exclusive content it's well worth the splurge.
Almost a million of the 3.5 million titles available on Amazon's store are exclusive to the Kindle, so there's a serious argument to be made for selecting on of them simply on the basis of having access to a greater amount of books.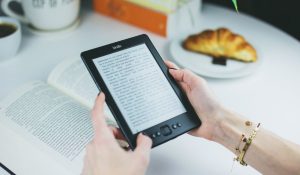 Connectivity
Each e-reader on anyone's shopping shortlist is going to have the ability to go online via a Wi-Fi connection, so the only real variable is whether you're going to want one with 3G functionality. If you'll be downloading through a WiFi connection you know you'll have access to all the time 3G connectivity isn't going to be a serious priority. However, for those who travel often or who would want to download new content while they're out and about a 3G-enabled e-reader may be vital.
Onboard Storage
There are two segments to this feature; the first being the onboard or built-in storage that comes with the device. A buyer will need to think about the rate at which that they consume books, magazines, etc and try to project roughly how much storage will be required for them to maintain their ideal 'library' of content. Since books aren't nearly as storage-intensive as audio or video content, just a few gigs should be sufficient for several hundred novels. Some e-readers do come with expandable slots so additional memory can be added, and this might be a crucial feature for someone who wants to have access to a massive amount of content.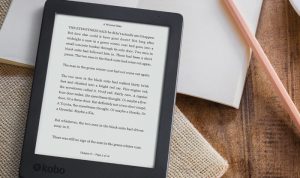 Convenience Features and Functions 
E-readers have a number of auxiliary functions that add to the ease and enjoyment of using them that will be down to each individual buyer's preferences. Some of them are waterproof, have variable text sizes to accommodate people with varying qualities of eyesight, adjustable backlights for power-saving, and even come in varied dimensions to increase portability. It's an important exercise before making a purchase to think about how important all of those factors are to you, and if they influence the price to make sure paying extra for a particular feature is worthwhile because it will make a positive difference to the experience of using it.
So, before you rush out and buy the first e-reader you see, think a little bit about your lifestyle and where and how often you're going to be using it to give you a better idea of the features that'll make you enjoy it the most.
If you're still not sure where to start, here are a few options to consider:
Amazon Kindle Paperwhite 6″ 10th Generation | 8GB WiFi
The thinnest, lightest Kindle Paperwhite yet, this e-reader offers a sleek, modern design so you can read comfortably for hours. Featuring Amazon's signature 300 ppi, glare-free Paperwhite display, laser-quality text, and twice the storage of the previous generation, this is an e-reader in a class of its own. What's more, a single battery charge lasts weeks, not hours, and it's waterproof so you can take it almost anywhere, including the beach, pool, or bath. Paperwhite is IPX8 rated to protect against accidental immersion in up to two meters of freshwater for up to 60 minutes. And, if you're not in the mood to read, the all-new Kindle also features Audible, which allows you to switch seamlessly between reading and listening via Bluetooth-enabled speakers or headphones.
Shop for the Amazon Kindle Paperwhite at the best price via PriceCheck now:


Kobo Clara HD eReader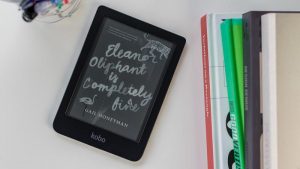 If Kindle isn't your thing, try the Kobo Clara HD. The perfect reading companion for any book lover, this device is a great alternative to a Kindle e-reader. It always provides the best light to read by with ComfortLight PRO, and a natural, print-like reading experience on its 6" HD screen. Easily customisable features help customers new to eReading to read the way they prefer. With 8 GB of on-board memory and the ability to carry up to 6,000 eBooks, Kobo Clara HD always has room for your next escape
Shop for the Kobo Clara HD eReader at the best price via PriceCheck now:


Kindle Fire 8″ 7th Generation Tablet | 32GB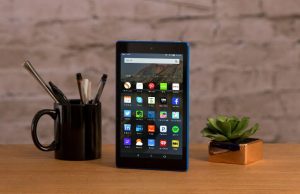 If you're looking for something more multi-use then this Kindle tablet might be the right choice for you. The fully functional tablet enables you to read through the included Kindle app, whilst offering all the other features of a regular tablet. The device allows you to read comfortably at night with Blue Shade, an exclusive Fire OS feature that automatically adjusts and optimises the backlight for a more comfortable nighttime reading experience. Plus, with an 8″ HD Display,  1.5GB of Ram, 12-hours of battery life, and a 1.3 GHz quad-core processor, the device offers more than enough on-board power to perform most tasks you would usually perform on a tablet.
Shop for the Kindle Fire at the best price via PriceCheck now:


With a wide range of eReaders to suit every budget, PriceCheck is the ideal place to shop for eReaders and tablets online.