There's no doubt, gradual tanners are the best thing to happen to the melanin-challenged in a long time. Anyone who has ever had a bad self-tan incident will no doubt agree that it's life changing. It's basically like self-tan for dummies and drastically reduces you chances of messing up your tan. There are loads of gradual self tanners on the market but Skinny Tan Gradual Tanner takes the cake for me.
Skinny Tan became a global success after appearing on UK TV show, Dragons' Den. Founders, Louise Ferguson and Kate Cotton, made the most successful pitch for investment in the history of the BBC2 TV show in 2013 netting a £60,000 investment from interior designer Kelly Hoppen and IT businessman Piers Linney, in return for a 10 percent stake in their business. Now, years later, the brand offers a wide range of products to suit every tanning need.
Perfect for the most subtle tan, Skinny Tan Gradual Tanner allows you to build colour up each day until you reach your desired level of tan. After two to three days of applying this product you'll have a beautiful, natural looking tan with zero streaks. Enriched with Grapeseed Oil, Sweet Almond Oil and soothing Aloe Vera, for soft, healthy looking skin, the product contains lower levels of Skinny Tan's naturally-derived tanning agents to put you in control of your tan.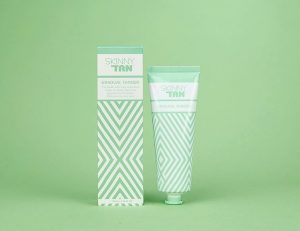 The rich lotion feels ultra-luxurious going on and always leaves my skin feeling soft and hydrated after applying. It also has a divine coconut scent to get you in the summer holiday vibe, even if it's the dead of winter. One tube of this wonder tanner will maintain your tan for up to 4 weeks with very little fuss at all. having a flawless, natural-looking tan throughout the year has never been this easy!
To get started simply apply the product to clean, dry skin and wait a few hours. You'll start to notice a subtle tan developing about 5 hours after applying. From there you can decide to top it up the next day to develop a more medium tan, or keep going until you've achieved a more intense colour. The lotion dries super fast, and doesn't transfer to clothing or sheets, so you can apply it right before bed if you're keen to let the colour develop overnight. Once you're desired tan is achieved you can then apply the product weekly to maintain your results or when you notice your tan fading.
Another interesting thing about the Skinny Tan Gradual Tanner is the dash of caffeine added to the product – this is where the 'skinny' bit comes in. Caffeine is often hailed as a cellulite buster and the caffeine, sourced from Guarana berries, included in the formula of this lotion has been added to help improve the appearance of cellulite over time.
Shop for Skinny Tan Gradual Tanner and other Skinny Tan products online via PriceCheck now:


Check Out Our Fashion & Beauty Section For More Exciting Reading!