Nothing says easy week-night dinner quite like a quick pasta dish and Pasta Joy's recipe for Spaghetti Marinara with beef and peas is as easy as it comes! Whether you're cooking for one or a whole tribe, this delicious dish will go down a real treat. Serve it on its own or with a salad on the side for a bit of freshness at the lunch or dinner table.
Spaghetti Marinara with beef and peas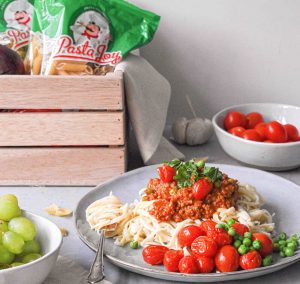 Ingredients
500g lean beef mince
1/2 tsp ground ginger and garlic
1 tsp chilli powder
3 tablespoons olive oil, plus more for drizzling
4 cloves garlic, thinly sliced
1 small onion, diced
1 teaspoon dried oregano
Salt and pepper to taste
1 tin whole peeled tomatoes, crushed by hand
1 tsp brown sugar
1/2 cup chopped fresh basil
500g Pasta Joy Spaghetti or Linguine
2 tablespoons butter, cut into cubes
1/2 cup frozen peas
Method:
Cook pasta according to packet instructions, drain and set aside.
Drizzle pan with olive oil and braise onion and whole garlic till translucent in colour. Add mince, ginger and garlic, salt and chilli powder and braise till cooked. Add tomatoes, brown sugar, salt and pepper, dried oregano and simmer till tomato is cooked. Add butter.
Lastly, add peas and allow to soften. Swirl pasta through sauce until fully coated and top with basil and optional Parmesan shavings.
Love to cook? Compare prices on a wide range of cookbooks online via PriceCheck now!


For more recipes, click through to our Recipes & Cooking section.