For all those PS4 gamers out there, we've got some good news! Sony Interactive Entertainment has announced it's Playstation Hits range, which is a collection of the platform's best-selling games so far; but that's not the best part – each game in the Hits collection will now be priced at R349.99, both online and in-store.
This is a good move from Sony, and one which mirrors their Playstation Platinum games during the PSX and PS2 era, which helped reboot interest in a lot of the previously-released titles.
The list includes the likes of the brilliant Uncharted 4: A Thief's End, Bloodborne, and The Last of Us Remastered.
The full Playstation Hits launch lineup is as follows:
Uncharted 4: A Thief's End
LittleBigPlanet 3
Driveclub
Ratchet & Clank
Killzone Shadow Fall
Bloodborne
Infamous: Second Son
The Last of Us Remastered
Project Cars
Dragon Ball Xenoverse
Dynasty Warriors 8: Xtreme Legends Complete Edition
Watch Dogs
Assassin's Creed IV Black Flag
Rayman Legends
Mortal Kombat X
Batman: Arkham Knight
Middle-Earth: Shadow of Mordor
Need For Speed
Need For Speed Rivals
EA Sports UFC 2
Yakuza 0
Earth Defense Force 4.1: The Shadow Of New Despair
Dynasty Warriors 8: Xtreme Legends Complete Edition
The new game boxes will also look like this: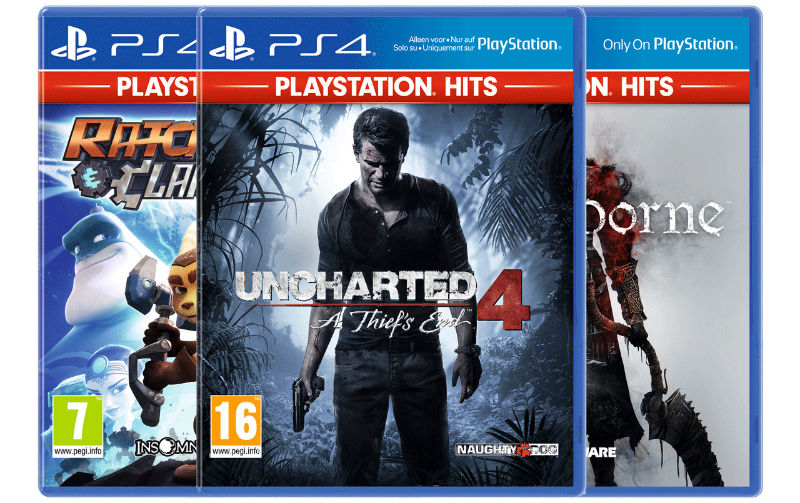 Sony also confirmed that PlayStation Hits is here to stay, with more games set to be added to the range.
You can shop a wide range of PS4 games on PriceCheck.co.za!