Nike has had some cracker trainer releases as of late, but now they're back with something a little bit different that is sure to appeal to your inner geek. The Nike Epic React Flyknit — the shoe that brought Nike's responsive, 'do-everything foam' to running — is back with a new look that draws inspiration from the vibrant tones of the '90s tech world. Here's why the Nike Epic React Flyknit 2 is bound to be your favourite running shoe in 2019.
Available in two techie colourways, "8-bit" and "Pixel" (or black and white), the running shoe features a white-to-lime gradient midsole, a hyper pink-to-white outsole and a sapphire heel clip.
In terms of performance, the Nike Epic React Flyknit 2 offers more cushion from the impact of each stride, and gives you the energy return needed to stay fresh late in a run.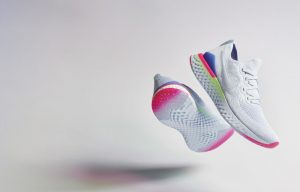 The shoe's upper is minimal and close to the foot but still supportive while the shoe's midsole was designed in such a way that it extends beyond the perimeter of its upper, around the heel to provide both the cushioning runners need. Because the upper sits on one piece of foam, the outsole is essentially the same as the midsole, but with a segment of rubber under the forefoot and heel for added traction and to help enhance the shoe's durability.
Whether you're looking for a great running shoe for the occasional run or are more serious about hitting the pavement day-in-and-day-out, the Nike Epic React Flyknit promises to make your runs just a little more comfortable while protecting your joints from the impact and wear and tear of the sport.
Nike Epic React Flyknit 2 will be available from February 22, 2019.
Itching for new running shoes? Shop a wide range of running shoes online via PriceCheck.


Want more fitness-related reads? Read all about Puma's new Hybrid Rocket Runners!
Check Out Our Health & Fitness Section For More Fashion News And Style Tips.