There's no doubt that we all wish we could do more to help save the Rhino in South Africa. But, did you know that doing your bit to contribute to this worthy cause is as easy as drinking a delicious bottle of wine? Van Loveren Family Vineyards has continued its contribution to nature conservation in South Africa with the release of the latest vintage Rhino Run wines and is encouraging all South Africans to cheers to a brighter future for our beloved Rhinos.
The latest Rhino Run range comprises four wines including The Rhino Run Chardonnay 2016, Rhino Run Ian Player 2016, Rhino Run Cabernet Sauvignon 2015, and Rhino Run Pinotage 2015. Created in honour of the white rhino, the Rhino Run Chardonnay 2016 is a slightly wooded, medium-bodied wine that pairs beautifully with creamy pasta dishes, roast pork, risotto, crayfish, and prawns while the bolder, Rhino Run Cabernet Sauvignon 2015 offers red wine lovers something to savour with heartier, more meaty dishes like pork or venison.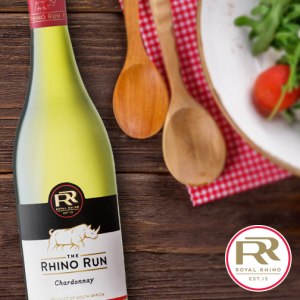 A fifth wine, The Last One Shiraz 2013, completes the range and further extends Van Loveren's contribution to nature conservation in South Africa. A limited release collector's item, The Last One Shiraz 2013 is hand bottled, waxed and labelled, featuring the signature of Cellar Master, Bussell Retief, on the label. Only 1 215 bottles of this unique wine have been released to the consumer market. Produced from hand-selected grapes from a single vineyard, Bussell describes this premium quality, full-bodied wine as displaying light peppery aromas of ripe berries, perfume and spice.
Proceeds from the sale of every bottle in the Rhino Run range are donated to the Player Ntombela Foundation. In addition to money raised for the foundation through every bottle of Rhino Run sold, donations to this worthy cause can also be made through the Rhino Run website.
Buy incredible local wines online via PriceCheck now!

Want more wine-related reads? Check out our list of 5 Must-Try Winter Warmer Wines.
Check Out Our Cooking & Recipe Section For Restaurant Reviews, Recipes, Foodie Features, And News To Make You Salivate.