For many years, open-plan living has been the order of the day. It facilitates a relaxed, harmonious, more sociable way of life. But, 2020 happened and brought along with it the need for self-isolation, remote working, and spending far more time at home. Open-plan living is brilliant for families with have smaller homes and allows for multiple functions to be performed in the same area.
But now, with Covid restrictions in place, there is a greater need for privacy and personal space in the home. As well as a need to add boundaries to our living and work zones, so they don't constantly spill over onto one another. The most practical and economical solution to the problem is to shift from open-plan to 'broken-plan' living.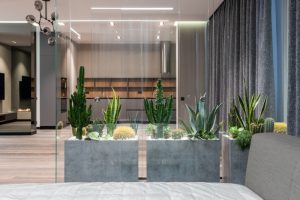 What is 'broken-plan' living?
In a nutshell, broken-plan is still an open-concept design, but with a focus on integrated living. You retain the spacious airiness of open-plan living but, through the clever use of the available space and the creation of distinct zones, you allow for more flexible use throughout the day.
Essentially, you are creating separate personal hubs in your home for working, family time, dining, study and leisure. This also adds visual interest, and enhances the livable aspect of an open-plan area.
How to optimise your home for broken-plan living
Luckily optimising your home for broken-plan living isn't as hard as it sounds.  A functioning broken-plan design can be achieved in a number of ways. If you have some money to spend, you can look at using of different floor finishes, split-levels, mezzanine levels, or glass partitions. But, more cost-effective options like semi-permanent partitions, such as bookcases and screens will also work to create a clear divide between spaces.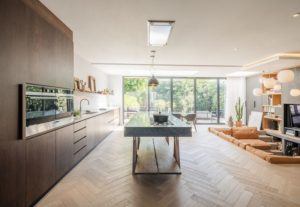 Broken-plan design gives you the best of both worlds – all the benefits of open-plan living but with considerably more privacy and functionality. And the best thing about it is that all it really requires is a little imagination. Even a shoestring budget isn't a stumbling block to transforming your living area into a multifunctional live/work/play space.
However, as simple as broken-plan design may be, that there are a few tricks to learn to ensure that the result isn't impractical, disjointed or even unsightly. Here are 5 practical ways to embrace broken-plan design in your home: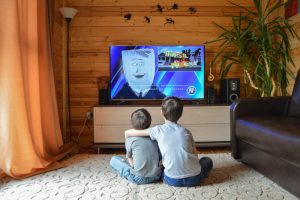 Let there be light
One of the main reasons people opt for open-plan living is for the increase of natural light in the home. It's important to preserve as much of the same flow of natural light as possible. What's more, with a large room divided into distinct zones for different uses, you can further distinguish each area with its own light source. Think statement lamps or standing lights.
Find the best prices on lamps and signature lighting online with PriceCheck now:


Half walls
Although a dated concept, these clever little dividers are making a comeback as they are a great way to break up rooms without affecting sightlines and natural light. Modernise a half wall by making it a statement feature in the room. Paint it a vibrant or contrasting colour, add texture using brick or wood, or you can even have it double as a bookshelf.
Glass walls
If you need more privacy or peace and quiet for your work, glass walls are a great way to achieve clear definition while keeping your home bright and spacious.
Use flooring or wallpaper to designate zones
Different flooring or wallpaper is great for creating the perception of distinct zones without interfering with the overall flow of the space. For instance, If you have tiling throughout, consider swapping your lounge floor for carpet instead. But, if you feel that's too costly or drastic a change, a couple of cleverly placed rugs will also do the trick. Wallpaper is another great option for showing designated zones in a big open-plan space.
Find the best prices on wallpaper and rugs online with PriceCheck now:


Get high
If you have high ceilings but are craving more floor space, then it's time to elevate. Mezzanines are a beneficial way of creating extra room in smaller spaces which would appear very cluttered if you need more than two or three zones. It's also perfect as a work station as it's above the main activity and distractions in the room.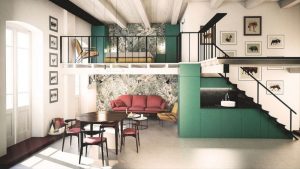 The sunken room
We know what you're thinking; 'the 70s called, they want their ideas back.' It may sound dated, but the sunken room is making a comeback! If you have the time and resources to stomach a renovation right now then you can designate an area of a room to be dug/lowered about half a metre lower than the rest of the living space. It's ideal for keeping all the kids toys in one place and also as a TV snug.
Flexible solutions
Of course, many of us won't be working from home forever. If you think the layout you currently need might be temporary, then consider using flexible solutions to make your space work for you while you're still working from home. Portable dividers, like screens, allow for constant change depending on the need for privacy.  Or you can use furniture items like open shelving which is a bit less flexible but no less temporary. Indoor plants and even just rearranging the furniture will also help to create separate spaces.
Find the best prices on home décor online with PriceCheck now: