As winter makes its somewhat dramatic, yet not unexpected, entrance into our lives, many of us are finding that our summer glow is fading, fast. As the dry, dull complexion and lacklustre hair synonymous with South Africa's harsh cold months begin to creep up on us, now is the ideal time to take action and beat the winter beauty blues. To help you on your way, here are a few tips on how to keep skin and hair healthy and glowing throughout the chilly winter months.
Why is winter tough on the skin?
Cold temperatures and dry air draw moisture from your skin and scalp, dehydrating it. Add the effect of cold wind and indoor heating, and you can be left with dry, cracked and pasty-looking skin. In addition, during the cooler months, many of us drink fewer liquids because we tend to be less thirsty. This aggravates dehydration and skin fatigue.
PriceCheck tip: Ensure you're ready for Winter by stocking up on the moisturisers and skincare products you need. And you can find the best deals on them on PriceCheck.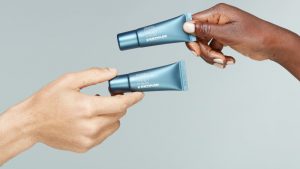 What is skin fatigue?
Skin fatigue is caused by long-term stress that can be lifestyle induced – through things like poor diet, excessive alcohol and smoking – or as a result of external factors like pollution and UV radiation, but it is very often a result of a combination of these factors. Stress causes your adrenal glands to secrete cortisol (a stress hormone) which compromises blood flow and can damage the collagen in the skin, aggravating the ageing process."
Top tips for healthy winter skin
The first step in keeping your skin healthy during winter is to stay well hydrated from the inside. Drink plenty of water to keep skin cells plump and fresh. As tempting as it may be to wash with hot water during the cold months, it can strip your skin of natural oils and lead to spider veins and vasodilation. Apply your moisturiser immediately after cleansing to trap as much moisture as possible. Something like Dermalogica Biolumin-C Gel Moisturiser defends against free radical damage to help even out skin tone and brighten the complexion.
Need a little more hydration? Saturate your skin with hydration and lock in moisture to help it bounce back this winter with Dermalogica's Hyaluronic Ceramide Mist before applying moisturiser.
To beat the winter "blahs", many make the mistake of assuming they should swap out their lighter-textured moisturisers for those with a heavier, thicker formulation. However, instead of getting something gloopier, rather choose smarter and opt for a hydrating serum instead. The Lamelle Correctives HA+ Serum is a killer hydrator and is the ideal way to boost your skin's hydration levels.
It's easy to forget sunscreen during winter, but don't be fooled. The sun is just as damaging when it's cold. Choose a good-quality moisturiser with a high SPF to avoid sun damage and the early onset of wrinkles. A vitamin D boost does wonders for your soul during winter and naturally, one would want to find a sunny spot to soak up the warmth. Just ensure your skin is safe.
It's also essential to remember to exfoliate your skin twice a week. Exfoliation removes dead skin cells and keeps the skin looking fresh and radiant. Use rich and nourishing skincare to keep the skin hydrated and guarantee a glowing complexion. The new vegan Clean and Care skincare range from Kryolan includes natural products that will indulge and enrich your skin with nourishing jojoba oil, cold-pressed macadamia nut oil, avocado oil, argan oil and organic squalane.
PriceCheck tip: Dryer weather means more strain on your skin, and add in the effects of the sun, and you stand the chance of damaging your skin. Remember to use good sunscreen in Winter, and you can find the best deals on sunscreen on PriceCheck.
Make-up products to use this winter
Looking after your skin in winter doesn't stop at skincare products, it's important to use hydrating makeup as well. Hydrating primers such as the Kryolan Digital Complexion Primer for Dry Skin and the Ultra Underbase offer a superior moisture injection to the skin, making sure that make-up glides on smoothly and provides a glowing finish. Dewy finish foundations also accomplish a lustrous, satin sheen.
Illuminating fluids are also a great addition to your winter cosmetics kit. The Shimmering Event Foundation is a sheer, water-based fluid illuminator, available in a variety of colour nuances. It can be applied to the entire face under your foundation or even mixed into it to give your skin a radiant glow.
PriceCheck tip: Check out the best makeup deals on PriceCheck.
Winter haircare trends
Your hair needs just as much care during the winter months, especially the scalp. Say goodbye to a dry and irritated scalp with nourishing products to treat the scalp and hair. Something like the Moroccanoil Dry Scalp Treatment works to nourish, restore imbalances and relieve irritation while revitalising your hair with nourishing essential oil.
If your locks are feeling dry this winter, then try products that will work to hydrate and protect the hair. Instantly detangle, hydrate, and protect hair with Moroccanoil All in One Leave-in Conditioner. This multitasking spray works on all hair types to protect against breakage and thermal damage while nourishing and softening the hair. The lightweight, milky formula contains antioxidant-rich argan oil, pure amino acids to increase strength, a nourishing superfood blend, and naturally derived sugars that act as an anti-dehydration shield.