Looking to stop wrinkles in their tracks? Chemical peels are a great way to reduce the signs of ageing and have become one of the most popular anti-ageing skincare treatments at salons and doctors' rooms across South Africa. While it might sound like a scary, invasive treatment, in reality, most chemical peels can be done in your lunch break, without very much downtime, and offer exponentially better results than a simple facial. But what if you're not quite ready for the real deal? Dermalogica's new Rapid Reveal Peel offers skin peel newbies a chance to try a scaled down version of the in-salon treatment in the comfort of their own home, while also achieving incredible professional-level results.
Dermalogica is well known for its long list of innovative skincare products but the Rapid Reveal Peel is arguably one of their best yet. While offering the perfect solution for anyone looking to try a skin peel for the first time, this professional-grade at-home peel is also aimed at helping regular skin peel fanatics maintain and prolong the results from professional in-salon peel treatments. Regular use of the Dermalogica Rapid Reveal Peel system will ultimately reduce the amount of in-salon peels you have to go for in a year.
While most other home skin peel products on the market are massively scaled down versions of professional in-salon treatments, Dermalogica's new Rapid Reveal Peel takes things up a notch with this maximum-strength exfoliant. From the first treatment, the product delivers visible results, with no downtime and in just 7-minutes you'll have that post-spa treatment glow without having to step foot into a spa.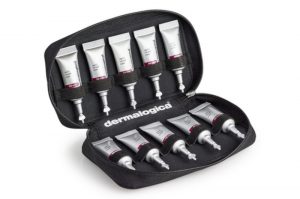 Dermalogica rates its exfoliator strength levels by a bio-activity score, measured by the concentration of lactic acid and salicylic acid, the pH of the formula, and the presence of other exfoliant agents within the product. The higher the bio-activity score, the stronger the exfoliant. The Rapid Reveal Peel has a bio-activity score of 21, whereas Dermalogica's professional spa exfoliant products, have a bio-activity score of 25, making the Rapid Reveal Peel impressively active for a home-use product.
The product contains a complex of phytoactive AHA extracts, Lactic Acid and fermented plant enzymes that work to remove dulling surface debris and reveal new, firmer skin while also reducing the appearance of fine lines and wrinkles. At the same time, Pumpkin Fruit Enzyme and Rice Bran Extract help even skin tone by resurfacing the skin and accelerating cell turnover. Lastly, smoothing Australian Caviar Lime Extract brightens skin for a more radiant complexion.
Dermalogica's Rapid Reveal Peel contains 10 single-use tubes of product and is designed to use once a week, at night. To use, you simply twist the top of the nozzle off, dispense the product into your hands and massage into your face. Leave the product on for 3 – 7 minutes, before rinsing off with cold water or wiping off with a cold, damp towel. If you are more sensitive, start low and build up your time each time you use it until you can leave it on for the full 7 minutes. The product has a gel-like consistency and is also quite cooling on the skin at first, but be warned it does start to heat up and tingle after a short while, especially if you're new to skin peels. This is totally normal and should subside after a few uses as your skin adjusts to the maximum-strength exfoliant.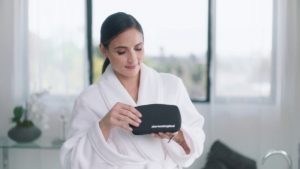 Because this is such a powerful peel, it is vital that you follow the instructions correctly, do the peel at night, and always wear a good facial sunscreen for a few days after using the product. If your skin really needs a pick-me-up and you are looking to achieve accelerated results then you can also try the optional Kick-Start Phase. This involves starting your Rapid Reveal Peel regimen by using one tube every day for 3 days. After the third day, you will transition to using one Rapid Reveal Peel tube every week.
I was truly blown away by the results of using this treatment. Not only could I see a change in my skin from the second or third use but the results have only been getting better with every weekly treatment. After a few weeks of use, the fine lines around my eyes are already starting to look less pronounced and my usually dehydrated, dull skin is starting to look a little more radiant. I love the natural glow I get after using this product and I can see it's going to be a huge help with maintaining the results I get from professional peel treatments. What's more, if I keep using this product religiously I should be able to extend my peel treatments from every 4 weeks to every 8 weeks – which is music to every lazy gal's ears!
I would highly recommend this product to anyone who is looking to invest in their skin and achieve visible results that last.
Shop the Dermalogica range online via PriceCheck now.


Want more great budget beauty finds? Here are our Top 3 Budget-Friendly Neutral Eyeshadow Palettes.
Check Out Our Fashion & Beauty Section For More Exciting Reading!