While craft beer is still enjoying immense popularity in South Africa, the  local craft and specialty cider market is still largely untapped. But wine farm, De Grendel, is aiming to change all that with a new premium small-batch cider crafted for those in search of something a little more special. Made with fresh apples from one of SA's best apple-growing regions, Three Spades Cider is a cider lover's dream come true.
Made in limited quantities using freshly-pressed apples from Elgin, this dry, but smooth addition to the cider market is stylish and sophisticated. While De Grendel is best known for its stellar efforts in the wine making business, the farm decided to launch a premium cider in response to a growing interest in small batch, hand-crafted ciders where the  appreciation for traditional, artisanal methods is front of mind.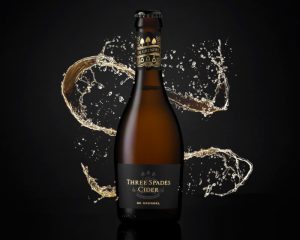 Boasting an exquisite champagne-like flavour, Three Spades Cider offers cider lovers a light, crisp, drink with a slightly fizzy finish. It's the perfect drink for a hot summer's day by the pool or a late afternoon braai. What's more, the cider is also gluten-free, making it a great alternative to beer!
Three Spades Cider retails at a recommended retail price of R35 per 330ml bottle.
Buy a wide range of South African ciders online now via PriceCheck!


Want more drinks-related reads? Check out our list of 7 Wine Gadgets Every Wine Lovers Needs.
Check out our Cooking & Recipe section for restaurant reviews, recipes, foodie features, and news to make you salivate.