Ladies, if there's one beauty product you need this summer it's a tinted facial sunscreen. Arguably the best two-in-one beauty product ever created, tinted sunscreen will enable you to ditch heavy, foundation this summer while still looking glam. Lightweight and low maintenance, these magical multitasking skincare products are available in various formulas and finishes, from liquid to cream, and even powder. Not sure which one to invest in? We take a look at 3 of the best-tinted sunscreens on the market right now.
Bioderma Photoderm Tinted Cream SPF 50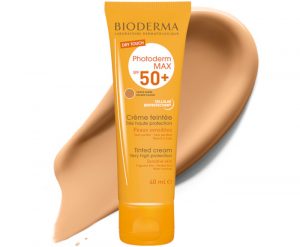 This ultra-light sunscreen has a very fluid texture when applied but dries with a mattifying dry-touch finish on the skin. Ideal for those with sensitive or intolerant skin, this product offers very high sun protection. Available in two shades (Light and Golden), this tinted cream is best suited to those with very fair skin that is exposed to extreme sun conditions (like the African sun). You can expect coverage similar to a BB Cream, so if you want serious coverage, you'll have to look elsewhere.
Compare prices for Bioderma Photoderm Tinted Cream SPF 50 on PriceCheck now:


Coverderm Filteray Face Plus SPF50+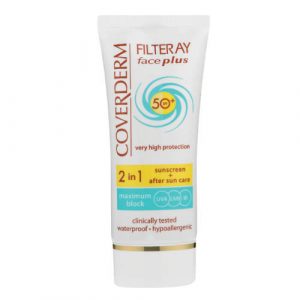 For a foundation-like coverage, you can't go wrong with this gem from Coverderm. This cream feels super light on the skin but still covers up imperfections like a boss. It's also deeply moisturising and nourishing for the skin, making it ideal for anyone with dry skin. Available in light beige, soft brown, and untinted, this cream is a super effective sunscreen and offers protection from UVA/UVB/IR sunrays. In addition to different shade options, this sunscreen also offers options for normal, dry/sensitive skin (with boosted hydration power and anti-irritant action), as well as oily/acneic skin (with additional pore-tightening, astringent and sebum-regulating action) so you'll be covered no matter your skin concern.
Compare prices for Coverderm Filteray Face Plus SPF50+ on PriceCheck:


Badger SPF 30 Tinted Sunscreen
This natural tinted sun cream combines non-nano zinc oxide (a physical blocker) with skin-soothing, organic ingredients, like antioxidant-rich vitamin E, to hydrate your skin as it shields and protects. The lightweight cream offers a sheer mineral tint to help minimise the whitening effect of non-nano zinc oxide while also helping to minimise the appearance of imperfections on the skin. Hypoallergenic and water-resistant for 40 minutes, it's a great choice for daily wear, the beach, swimming, or light activities such as hiking and biking.
Compare prices for Badger SPF 30 Tinted Sunscreen on PriceCheck:


Need help finding skincare at the best prices? Browse a wide range of skincare and makeup products online via PriceCheck now.