Load-shedding is rearing its ugly head once again and you don't want to get left in the dark when Eskom decides to turn off the lights. Having a good-quality torch is not only essential during load-shedding, every home owner should have one handy in their emergency kit in case of an unplanned power outage.
The best torches are versatile enough to be used in multiple scenarios, whether you're trying to navigate your home during load-shedding at night, have to find your way in the dark while camping, or need a form of emergency lighting when your car breaks down. But which flashlight is best suited for your needs? Let's take a look at the best torches available in South Africa.
Olight S2R Baton II
If you're looking to invest in one torch, make sure it's waterproof. Investing in a waterproof torch will give you so much more versatility; you can use it outdoors in all types of weather as well as during load-shedding at home. Ideally, choose a torch with a variety of different lighting modes, that isn't too heavy (to help avoid wrist strain during use), and that has a rechargeable power source.
Fitting all those features in one neat little package is the Olight S2R Baton II. This compact torch is fully weatherproof and isn't too heavy in the hand. The powerful 1,050-lumen torch offers five different levels of brightness and comes with a rechargeable lithium battery. The torhc also features a battery indicator light to ensure you don't get caught out with no juice. This versatile flashlight is rugged enough for pretty much any situation and can be dropped from up to 1.5m without breaking.
Find the best prices on torches online with PriceCheck:


Maglite ML150LRX
This rechargeable torch is the cream of the crop. It will cost you a pretty penny but it's beyond worth the splurge. Throwing out a whopping 1,082 lumens, this compact torch boasts a beam range of 458 metres, giving you an excellent range of site. Most police officer's torch of choice, the Maglite ML150LRX was awarded a five-star rating from the US National Tactical Officer's Association for its incredible versatility and lightweight feel.
The flashlight is also incredibly easy to charge – you'll need just 30 minutes to boost it to 80 percent power. Plus, with a 10-year warranty and an ultra-rugged exterior made from high-strength aircraft aluminium, this torch will last you a lifetime.
Find the best prices on torches online with PriceCheck:


Olight S1R II Baton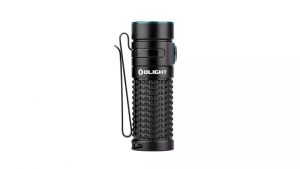 If space and budget is a concern then you can't go wrong with the Olight S1R II Baton. This rechargeable mini flashlight is incredibly lightweight but still does a stellar job of illuminating your way. Boasting a powerful 1,000 lumens of precise light up to a distance of 145 meters, this little guy packs a real punch. A texturised 'milled' body makes it easy to grip while the removable stainless steel clip, enables you to go hands-free and attach it to your belt, jacket or the outside of your backpack.
The ultimate pocket torch, this little gadget is ideal for using at home as well as on camping trips when you need to keep the weight of your pack down without compromising on performance.
Find the best prices on torches online with PriceCheck:


The best torch for you will depend on your budget and your needs. There's plenty of choice for those that want to upgrade from their smartphone's relatively weak flashlight. Before investing in a torch, take into account the number of lumens the torch can throw out, the distance the beam of light can reach, as well as the weight of the torch. If your budget allows, opt for a rechargeable torch as this will save you money on costly batteries in the long run.
Need more load-shedding solutions? Find the best prices on load-shedding essentials online with PriceCheck: