Taiwanese company, Asus has been pushing its ROG gaming lineup in recent years, establishing itself as one of the big players in the PC gaming market. The brilliance of the ROG line is that it offers something for everyone, and just about every budget. But if you want something with some serious prowess, then the ROG Strix G17 is a beast of a portable gaming option. We got our hands on one for some thorough testing.
Under the hood
First things first, let's chat about performance. The 17.3-inch laptop houses an AMD Ryzen 9 5900HX running at 3.3GHz, along with an Nvidia RTX 3070 GPU. This powerful setup gives the device more than enough graphical power to run just about any game under the sun at high to ultra settings. Testing it with Codemasters' Dirt 5, the Strix G17 runs smoothly on its 300Hz screen and looks glorious in action. The display itself is super crisp and offers a high-end TV-like experience, all from the convenience of a laptop.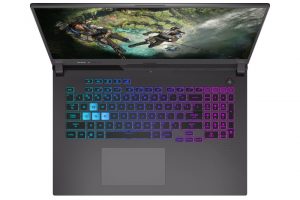 Design
Boasting a strong, bold, in-your-face, design, The ROG is all about that rugged look. The strong lines of the machine are expertly balanced out with dancing RGB lighting across the device, most notably under the edges, which offer an enviable underglow. Weighing in at just over 2.5kgs, the ROG Strix G17 is one of the heavier gaming laptops on the market, but nothing that will hamper taking it away for the weekend or carrying it around in a sturdy laptop bag.
The plastic build of the body is sturdy too, and it feels solid when opening and closing the screen, unlike with some other devices on the market.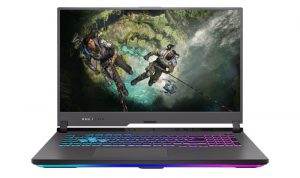 Also read: Buyer's Guide: 5 Most Anticipated Games of 2021
Experience
Playing games and utilising the Strix G17 is a pleasure. From opening applications to pushing whatever game you're playing to the max, it seems to just handle any task thrown at it. Furthermore, the device features impressive sound, with built-in speakers in front and behind the display delivering an almost surround-sound type experience (or at least, the illusion of it).
Verdict
The R47,999 price-point may turn some gamers away, but what you're getting with the Asus ROG Strix G17 somewhat justifies it. It may not be the sleekest laptop on the market, but it's not trying to be. If you're looking for a well-performing, well-built powerhouse that doubles up as a great work PC, then the ROG Strix G17 is something to consider.
Find the best price on gaming laptops online with PriceCheck now: