All eyes were on the Royal visit this past month when Duchess Meghan and Prince Harry lit up the country. During her visit Meghan served South Africa a series of special looks — from her striped dress for the British High Commissioner reception and olive-green belted dress in the Bo-Kaap, to that periwinkle blue dress at the District Six Museum and print wrap dress for Nyanga Township, the Duchess was killing it on the fashion front.
For her trip, the Duchess of Sussex opted for gorgeous, top-quality, but very versatile outfits ideal for multi-tasking. The duchess often reuses her favourite pieces, which goes to show some classics are simply irreplaceable. This summer season, take a page out of Meghan's book and opt for classic looks that are appropriate for all occasions — whether they be work, gatherings with friends, or relaxing at home — in breathable fabrics and whimsical shades.
Not sure where to start? Check out these top fashion picks to emulate that famous 'Markle sparkle':
The wrap dress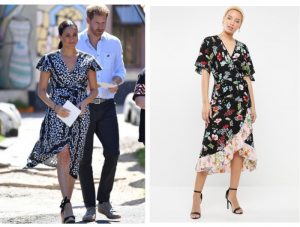 Keep it light and breezy in a flowy wrap dress. Perfect for summer brunches, shopping trips with the girls, or even a wedding. Dress it up with heels for a special occasion or keep it casual with a pair of simple flats.


The denim jacket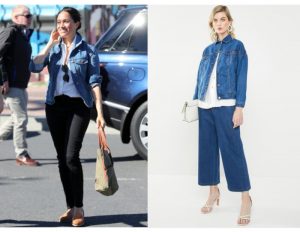 A good denim jacket is a must-have in any wardrobe. Throw it on over a summer dress or a bodysuit paired with a pair of cotton pants for a casual take on a pretty outfit.


Statement wedges
There's no doubt about it, you need a versatile pair of wedges for summer. They're ideal for everything from weddings to wine tasting. Pair them with a maxi dress for an instant glam look or with your favourite pair of jeans for a casual but dressy outfit for a daytime affair.


Browse great summer wardrobe must-haves online with PriceCheck now. PriceCheck brings together the best fashion finds from some of South Africa's biggest online retailers all in one place so you don't have to shop around!
Photo credits: the Duchess of Sussex: Hello! Magazine and local fashion: Superbalist.com